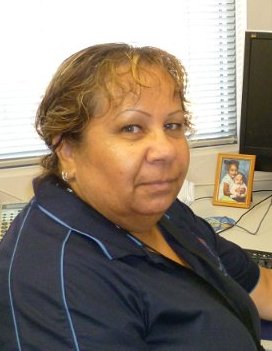 Marian Hill is an Aboriginal Health Worker who's dedicated her career to brightening the futures of Aboriginal and Torres Strait Islander people for over a decade and, as a result, she is a finalist in the 2013 Deadly Awards.
"It hasn't really sunk in yet – I wasn't expecting it. To win it would mean recognition of my achievements in my time as working as an Aboriginal Health Worker," says Marian.
She began her career at Derbarl Yerrigan Health Service (DYHS) as a cleaner but as a single mother and sole income earner, with a push from colleagues, she became an Aboriginal Health Worker (AHW).
"It'd been a long time since I'd studied, so it was like going back to the school days with all the assignments so it was a big challenge, but has been very rewarding," she says.
During her extensive career, Marian has taken a holistic approach to healthcare and thinks to improve health outcomes for our mob we need to target youth.
"It's important for our future – our generation faces many challenges and that's why we have to teach the generations coming through from a young age to take better care of themselves," she says.
Marian has co-ordinated numerous programs and, one in particular, is the Ear Health Program – fast tracking children to medical treatment.
Marian also works closely with Australian Hearing and ENT specialists providing screening and education in the schools and community, and also to Prac Students who are currently studying.
"I find the Ear Health Program very rewarding because you can achieve goals. The children have their operations; you follow them through and Otitis Media is a curable disease," she explains.
In October last year she gained AHW Practitioner status and is the first registered AHW in Western Australia and the Derbarl Yerrigan Health Service.
"I was really shocked because I just thought there were other people around. I got sent a letter saying that I was the first person in WA – I was over the moon," she says.
"It was a big achievement for me because I've never been the first in that area."
Although she says that the job can be tough, sometimes she will remain a passionate AHW and continue to provide healthcare to those in need.
"If there's a task for me to do I've always followed through and done it to the best of my abilities."