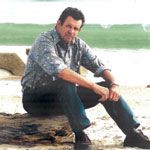 A hearing loss can easily stop some people from socialising with friends and family and performing day-to-day activities.
For Edmund Thomas, doing something about hearing loss has helped him reconnect with life, family and friends and achieve some awesome things that he had never dreamt possible.
Edmund was the Tasmanian Aboriginal and Torres Strait Islander Student of the Year in 2003, and was a torch bearer during the Canberra leg of this year's Olympic torch relay.
Edmund had been a client of Australian Hearing Burnie in Tasmania for about 10 years when he noticed that his hearing was diminishing.
"I was quite upset at the prospect of getting hearing devices," Edmund says. "But after I got a hearing test at Australian Hearing, I was pleased with the outcome. The hearing devices were much smaller than I expected."
Australian Hearing Principal Audiologist Janette Thorburn said that the latest hearing devices are very comfortable and discrete.
"Current models of hearing devices are designed to suit your lifestyle and are small and sleek," Janette says.
"Hearing device technology is constantly evolving, just like that for mobile phones. Today's hearing devices offer some great features, like directional microphones and background noise dimmers."
Edmund believes getting his hearing checked has made a big improvement to his relationships. He now enjoys gardening with his wife Jenny, painting with his granddaughter and was able to socialise with people at Canberra during his torch bearing run.
"It is great to go out and enjoy life and have a joke with people now that I have my hearing devices," Edmund say. "When I went to Canberra for the run, I could talk and listen to people and not make any mistakes."
Edmund advises people who think they may have problems hearing to get their hearing checked.
"It is important to do something about it sooner rather than later, because once your hearing is damaged you can't get it back," Edmund says.
As an Indigenous Australian over the age of 50, Edmund was eligible to access Australian Hearing's services for free. Australian Hearing has 94 permanent sites and 240 visiting sites nationally.
Call 131 797 to be connected to your nearest centre or take Australian Hearing's telephone hearing test Telscreen by calling the toll-free number 1800 826 500 and following the prompts.
END BOX/