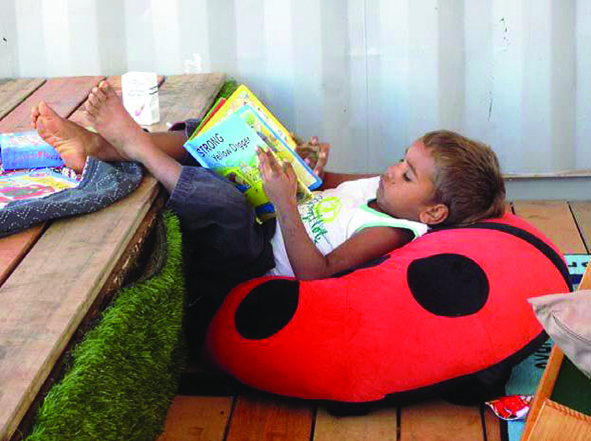 In 2011 the Gumala Aboriginal Corporation established 'The 3A Project,' a ground breaking initiative that uses learning strategies incorporating educational games, conversational reading and enriched care giving to young children.
The cutting edge 3A (Abecedarian Approach Australia) project involved the design and construction of an early education centre in the remote Aboriginal community of Wakuthuni, Western Australia.
Gumala Aboriginal Corporation (GAC) is one of Australia's leading Indigenous community organisations, serving the Banyjima, Innawonga and Nyiyaparli people of the Pilbara region in Western Australia.
"The idea of the 3A project is to provide early childhood support and education that will ultimately equip young children with the skills and knowledge in order for them to graduate on to primary and secondary schooling, and later on to University with the goal to close the significant gap in education for Aboriginal and Torres Strait Islander children," says Gumala's Education Manager, Lynne Beckingham.
"The program acknowledges that families are the first teachers in a young child's life. When parents and family members adopt the 3A approach, the children progress quickly and their learning becomes stronger."
Since the project began it has proven successful in the development of both the children and their families. The project involves the Wakuthuni community at all stages and aspects of the project.
"The program has assisted with developing positive relationships between parents, children and the school allowing for a more seamless transfer for the children who have entered formal schooling," she says.
"The 3A approach works in our remote community because not only does it make sure that the families are welcome, the children are in their own environment and have fun.
"Further, Gumala is also working to get key Gumala Members engaging with families to strengthen the program in the communities."
Gumala endeavours to work with children at the youngest age possible.
"Gumala is committed to continuing with its efforts to close the gap for all of our members. In order to make a difference, educators and caregivers should begin to work with children from birth. It has been proven that intervention after age three can be too late (for children at risk)," she says.
"Gumala is delivering ground-breaking programs across core areas that include health, education, lore and culture, training and employment and business development. Gumala is also engaged in a range of community development projects and services," she says.