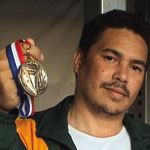 Deadly Vibe Issue 95 January 2005
He's got the power
Power-lifter Damien Williams has bench-pressed his way to the top.
Often referred to as the world's ultimate strength sport, powerlifting is not a sport for the fainthearted. It differs from weightlifting, which is a technical event incorporating two lifts: the snatch and the clean-and jerk, where the weight is lifted above the head.
Powerlifting comprises three different lifts: the squat, where the lifter begins by standing with the barbell resting on the back of the shoulders, then squats to a required depth before standing up again; the dead lift, when the lifter attempts to lift the weight off the floor until he or she is standing upright with shoulders back; and the bench-press, where the lifter lies flat on a bench and lifts and holds the barbell at arm's length before being lowered and lifted again.
It's in this third category that one powerful fella from Darwin has truly excelled " coming first in his weight category at the Australian Open Bench-Press Championships in Newcastle last year. Damien Williams, the only representative from the Northern Territory , competed in the 75-kilogram weight division and won, breaking the Australian record by five kilos.
"I bench-pressed 170 kilograms, which is twice my body weight, plus 20 kilograms," he says, making it sounds easy.
Now 34 years old, Damien was always interested in weightlifting and did weight training while he was in high school. In 1993, he gave powerlifting a shot, winning his division in a local competition.
"After that I gave powerlifting a miss to concentrate on my career," says Damien, who is now a qualified electrician. "But I still kept it up as a hobby."
It wasn't until last year, while surfing on the Internet, that Damien thought about taking up powerlifting seriously.
"I decided to compare what I was pressing to official competitors in Australia," he says. "I was surprised to find that the Australian record was within my grasp. So I started competing again."
With the help of the Indigenous Sports Program, Damien was able to attend the nationals, winning gold in his division.
"After this I was selected to represent Australia at the Oceania Bench-Press Championships in New Zealand in late September last year," says Damien. "They were held at Whangerai, which is located on the North Island, and there were five neighbouring nations attending " Australia, New Zealand, New Caledonia, Fiji and Tonga. There are a few strong fellas from around there!"
Damien's goal was to break the Australian 75kg-division bench-press record again, knowing this was possible after lifting 190kg during a training session.
However, as he had gained five kilograms during his training, he was weakened by having to lose five kilos in the week before the competition.
"I only managed to bench 160 kilograms," Damien says. "I'd adopted a new training program, which was supposed to increase my bench by 20 kilos, but obviously it didn't deliver, which is disappointing."
Although he didn't match or break his previous record, Damien still won gold in his division. And he doesn't plan to dwell on any disappointment, either. He has big plans for the coming year.
"My main goal is to break the Australian record in three different weight divisions," he says. "I've already broken the 75kg record, so now I'm aiming for the 82.5kg and the 90kg division."
The 90kg division record currently stands at 205 kilograms.
"I'll definitely be lifting in the 82.5kg division next year, which is my natural weight, and I'm a lot stronger now," says Damien. "I also plan to compete at the 2005 World Bench-Press Championships. It is great representing Australia and I'm looking forward to it."
(story 1/1/2005 end)