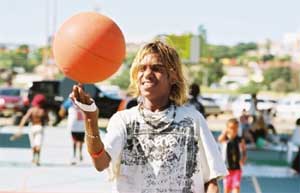 Organisers and festival goers have declared Bendigo Vibe Alive a success, with over 40 schools from the region and even South Australia, taking part in the two day youth festival.
More than 1600 students attended the event on Wednesday last week with another 450 students attending on the Thursday, bringing total numbers for the festival to almost 2000. Students travelled from as far as Adelaide and Menindee to attend. Vibe Alive was held at the Bendigo Showgrounds.
Students took part in a range of activities over the two days including performance, health, education and a careers expo. They got into the Vibe Alive spirit of learning, fun and celebration of Aboriginal and Torres Strait Islander culture from registration when they were given showbags and either the Australian, Torres Strait Islander or Aboriginal flags, which are a symbol of reconciliation and unity.
Role models were on hand to inspire the young people. Aboriginal singer Emma Donovan performed a beautiful ballad in her father's language at the opening ceremony, after a moving Welcome to Country by Aunty Brenda Kerr.
Actor Luke Carroll and artist and comedienne Kevin Kropinyeri were the MC's for the festival and kept crowds entertained with wit and humour. Young Samantha Walker was the local role model for the festival and she was joined by Ron Murray, Gail Mabo, Matty Shiels and Rick Roser who hosted activities and shared their experiences throughout the festival.
Beyondblue's Indigenous Hip Hop Project dancers captivated crowds through an interactive hip hop workshop. It wasn't long before the crowd were following the dancers' lead and also learning about how to get fit while still having fun.
Local Elders and dignitaries attended the opening ceremony including Mayor of the City of Greater Bendigo Council Ron Fiffe, the Reverend Robyn Davies and chair of the Vibe Alive local organising committee Sue Allengame.
The festival promoted the theme of staying at school and getting a full education to Year 12, as well as healthy, alcohol and drug free lifestyles. The Careers Expo, 'Full on Futures', was a hit with students and included interactive, hands on, stalls.
Vibe Alive executive producer Gavin Jones thanked the Bendigo region for their warm welcome.
"This is the second time we have visited Bendigo and myself and my crew have received a warm welcome locally. We planned for a great youth festival and I think we have achieved that with the help of all involved, including our local organising committee and team of local volunteers," Gavin says.
Vibe Alive is funded by the Australian Government's Community Festivals for Education Engagement program, designed to encourage school attendance, retention and healthy lifestyles for all young Australians, in particular, Aboriginal and Torres Strait Islander students.
Contact Maryann Weston on 02-4822 8230 or email [email protected] for all media requests.
Vibe Alive's principal sponsor, the Department of Education, Employment and Workplace Relations, is also offering to assist schools with their travel and accommodation costs. Information about travel and accommodation assistance can be found at: www.deewr.gov.au/Indigenous/Schooling/Programs/Pages/CommunityFestivals.aspx
Vibe Australia produces the Deadlys awards, Vibe Alive, Vibe 3on3, In Vibe, Deadly Vibe, Deadly Sounds and Deadly TV. For more information about products: www.vibe.com.au
All Vibe products promote a healthy lifestyle free from drug abuse and alcohol misuse. Vibe products encourage the completion of a full secondary education and all Vibe events are smoke-free. Vibe Australia is also committed to increasing training and employment opportunities for Indigenous people and encouraging all young Australians to reach their full potential.