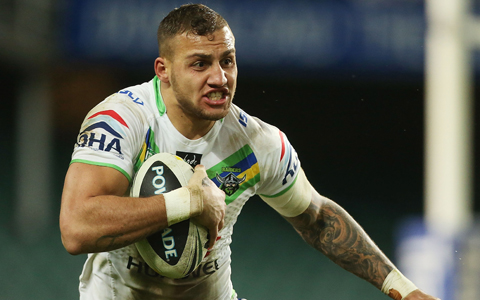 By Claude Williams
Should a club release a player if he wants to leave before his contract has expired?
This subject has become a talking point in the NRL as Ben Barba (Bulldogs), Anthony Milford and Blake Ferguson (Canberra) has requested a premature release from their respective clubs.
For clubs to even consider this it clearly depends on the players' circumstances. And let's not kid ourselves, it also depends who the player is.
Clubs have released players in the past on compassionate grounds or in the case of extraordinary personal circumstances and I'm sure will continue to do so in the future. Test props Ben Hannant (Bulldogs) and Petro Civoniceva (Penrith) spring to mind as they were both granted an early release from their clubs to join the Brisbane Broncos for family reasons.
In the main however they're more likely to release players who are languishing in the lower grades, are fringe first graders or are in their twilight. But generally, it is highly unlikely a club would release a key player from their roster if he is a major contributor to the team's prosperity.
I don't see Greg Inglis, Johnathan Thurston, Billy Slater or Cameron Smith securing an early release as they are just too valuable.
It's no coincidence that most players who are apparently unhappy and seeking a release, are with clubs who are struggling on the paddock? In other words, very few players would want out when a club is achieving and is a premiership threat.
Wests Tigers star Benji Marshall who has two years left on his contract and is relocating to Auckland next year, is a typical example. Would Benji want to out if the Tigers were placed in the top four?
Sonny Bill Williams signed a five year contract in 2007 and was enjoying a cushy ride when the Bulldogs were a major force. But in 2008 when the Doggies were on the slide he abandoned them mid season and jetted off to France to play rugby union. Now playing with the Roosters who are current premiership favourites, I don't see him wanting to move on in a hurry.
Clubs are under no obligation to permit an early release, and it is only through goodwill that they will agree to it.
Call me old school if you like but I've always held the belief that when a contract is signed, it must be honoured by the signatory as it is legal and binding. It is an official document which commits a pledge that it will be honoured and, if broken, basically equates to compromising one's values and diminishes the respect and trust that person once appreciated.
Of course it is absolutely acceptable and a win-win all around when club and player reach a mutual agreement. However if Barba, Milford and Ferguson are all granted an early release it could create a problem for the NRL as other players might follow suit, and this could open a can of worms the NRL could do without.