CYRIL RIOLI
Cyril was drafted by Hawthorn with the 12th pick in the 2007 AFL draft. He made his AFL debut in Round 1 of the 2008 season and went on to play 25 games in what was a close to perfect debut year, playing in every game of the season, winning the Premiership Flag, and narrowly missing out on Rookie of the Year honours. At the end of the 2009 season, Cyril was awarded the AFL Players Association award for Best Young Player and also received the Goal of the Year award. Cyril enjoyed another strong year in 2010, a highlight being his 27 disposals, 7 marks, 9 tackles and 3 goals performance against Adelaide in Round 12. 2011 was an up down season for Cyril. He achieved noteworthy hauls of five goals against Fremantle and then six against Port Adelaide – but was hampered by two hamstring injuries. 2012 has been a strong season for Cyril, and, as of July, he has played 15 matches. In May, he kicked a career high six goals against St Kilda, and made a career high 14 tackles against Port Adelaide in June. His 19 kicks and 10 marks against GWS in July are also career highs.
LEWIS JETTA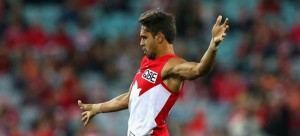 After playing senior football with Swan Districts in 2009, Lewis was drafted by Sydney with the 14th selection in the 2009 AFL Draft. Lewis impressed while playing in the 2010 NAB Cup, and created nationwide interest in his debut season as he scored 19 consecutive behinds before finally kicking his first AFL goal. 2011 was a relatively disappointing year for Lewis, as he struggled to have an impact playing off the bench. The 2012 season has seen him emerge as one of the Sydney Swans leading players, and by the end of Round 13 he had kicked 28 goals, the most of any Swans player and seventh in the league overall.
LANCE FRANKLIN
Lance 'Buddy' Franklin was selected by the Hawthorn Hawks with their second pick in the 2004 AFL Draft (fifth overall). He made his AFL debut in Round 1 of the 2005 season and enjoyed a superb first year, kicking 21 goals and earning himself a Rising Star nomination. 2008 would be a landmark year in Lance's career. In Round 22, playing against Carlton, he became the first player since Tony Lockett in 1998 to break the 100-goal barrier in a season, finishing with a total of 102 and winning the Coleman Medal as well as that years Premiership flag with the Hawks. In 2010, Buddy's memorable goal in Round 13 against Essendon was chosen as the Goal of the Year, and he was also picked for the All-Australian team. In Round 8 of the 2011 season, Lance kicked his 400th career goal at the SCG and finished the season winning a second Coleman Medal as the league's top scorer and also earned himself Full Forward All Australian honors. In Round 10 of the 2012 season, Lance booted a career high 13 goals, included his 500th in the AFL.
PATRICK RYDER
Patrick was selected by Essendon with its first selection in the 2005 AFL Draft as the seventh pick overall. He debuted in Round 1, 2006 playing mostly ruck or key forward and, in his 10th AFL match, was awarded a NAB Rising Star nomination for his efforts in Round 1 in 2007 and in 2009 won the ANZAC Medal. Patrick's improved form in the second half of the 2011 season saw him play a big role in Essendon's push to the finals. He played mainly in the ruck, where his tap-work was crucial and also played forward and in defence. Patrick has enjoyed another strong, consistent year in 2012, playing an influential role for the Bombers before being sidelined with injury as of round 17. He began the season in top form, garnering 33 hit outs and 20 disposals against North Melbourne in Round 1. The 2012 season has seen him achieve career high totals in disposals, kicks, marks, goals and hit outs.
EDDIE BETTS
Selected by Carlton with the No 3 pick in the 2005 Preseason Draft, Eddie made his AFL debut in Round 1 in 2005 against North Melbourne. His early performances saw him become a regular member of the senior team, filling the niche of goal-sneak and chaser for the club, and earning himself the tag of an exciting crowd pleaser. Throughout his first four seasons, Eddie had a consistent output of 20-25 goals as a small forward and in 2006 won the Goal of the Year award. In 2010, he was Carlton's leading goal kicker with a total of 42 and played his 100th AFL game. In 2011, Eddie finished the season with 50 goals, including a career-best eight goals against Essendon in Round 18 and was nominated in the 40-man All-Australian squad. Eddie has started the 2012 season in strong fashion, bagging five goals against Collingwood in Round 3 and four against Essendon in Round 4.