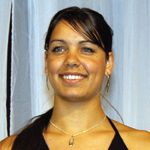 Deadly Vibe Issue 88 June 2004
She shoots – she scores!
She's one of Australian netball's rising stars – meet Bianca Franklin.
Getting plucked out of from obscurity by a passing talent scout is something that only happens in the movies, right? Wrong.
One minute Bianca Franklin was minding her own business, playing at a local netball carnival, when suddenly her whole life changed. A visiting netball talent scout who was watching the game saw her in action, and liked what he saw.
From there it was a whirlwind of training camps and team selections, and by the time she was 15 years old, Bianca was representing her state in the under-17 team.
Born in the small country town of Dowerin in Western Australia, Bianca began playing netball at the age of eight.
"At first it was just for fun," the talented 20-year-old says. "But then it slowly intensified."
It's not surprising that Bianca excels in sport – her father represented country Victoria in hockey, one sister is a State country runner, another also plays netball, and her brother is a possibility for next year's AFL draft.
"My family have been incredibly supportive," Bianca says. "They used to drive me to Perth for training and matches, three hours each way, three or four times a week. Sometimes I wouldn't get home until midnight. It was pretty full-on."
At 19, Bianca was awarded an Australian Institute of Sport (AIS) scholarship, and moved to Canberra to live and train full-time at the institute.
"At first I was really homesick," she admits. "But all the other girls were so great, and I've made lots of really good friends now."
As part of her scholarship, Bianca now plays with the AIS netball team, the Canberra Darters, although she still represents Western Australia in the national championships. Last year, the WA Flames won its first national championship in 27 years.
"That was probably my best moment so far," Bianca recalls. "Just to be part of the team, it really meant a lot to me."
Bianca has also been selected for the under-21 Australia squad, which is playing England in July. She is also hoping to make next year's squad, as the team will be playing at the World Youth Cup in Miami.
"Last year we went on an AIS tour to Jamaica and Barbados, which was truly amazing," Bianca recalls. "We helped their national teams train and prepare for competition. It was a great experience, although we didn't get much time for sunning ourselves."
To add to her list of achievements, Bianca also won an ATSIC award for 2003 West Australian Young Achiever of the Year.
"I really had no idea I would win such an award," Bianca recalls. "I was just enjoying being there and meeting all these incredible people.
"I was nominated for a Most Promising Young Talent Deadly award last year as well, but I couldn't go to the awards because we had finals on at the same time."
Bianca's next big goal is the 2006 Commonwealth Games, which she is already preparing for.
"I've still got a few more years to reach my peak," she says. "And if you really want something, your dreams will come."
Bianca Franklin plays Goal Attack and Goal Shooter for the Canberra Darters.
Born in 1984, her local club is the Western Australia State League -the FLAMES. Since playing at State and National levels, Bianca has received a number of honours including awards from the Western Australian Institute of Sport in 2001 and 2002. Bianca was also selected for the Australian 21/Under Squad 2003. Her ultimate goal is to play in the best competition in the world.
Name
Bianca Franklin
Positions:
Goal attack and Goal shooter
Height:
182cm
Date of Birth:
11/02/1984
Nickname:
Frankie, Frankfurt
Local Club:
West Aust State League – FLAMES
Australian Honours:
17/Under T.I.D 2001
19/Under T.I.D 2002
Australian 21/Under Squad 2003
Sate Honours:
West Aust 17/Under 1999, 2000, 2001
West Aust 19/Under 2002
West Aust 21/Under 2001
West Aust Open 2002
West Australian Institute Of Sport 2001, 2002
Playing Strengths:
Speed
Other Interests:
Music, beach and being friends
Favourite Foods:
Lasagne
Favourite Movie:
Dirty Dancing
What playing for the Darters in the CBT means to me:
To improve my skills and the opportunity to play in the best competition in the world.
(Story 1/6/2004 end)