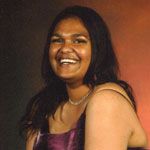 Story: She's TER-iffic!
A student from the Northern Territory records a top TER.
Finishing year 12 is a pretty deadly achievement. All those years of school, the hours of study required to pass, the pressure and the stress of those final exams – it's a wonder anyone manages it at all.
But one young woman from Alice Springs has done more than just pass; she's passed her Northern Territory Certificate of Education with the highest Tertiary Entrance Rank (TER) out of all Indigenous students in the Northern Territory.
Cherisse Buzzacott, a 17-year-old from Centralian Senior Secondary College, recorded a TER of 86. She was informed of her success by none other than the Northern Territory's Minister for Central Australia, Peter Toyne.
"I thought I might score in the 70s or maybe 80 at the very most," Cherisse says of her results. "I never thought I would get 86!"
Cherisse's subjects in Year 12 included English Communications, Tourism, Physical Education, Aboriginal Studies and Nutrition. She also completed a Year 12 photography subject while she was still in Year 11, and managed to hold down a part-time job at McDonald's throughout her senior years.
"It made it a bit harder to keep up with school work while I was working during the week," she says. "But it's great to have that extra money."
Cherisse plans to study midwifery at Flinders University in Adelaide in 2007, but for now is planning on taking a year's break from study. She is currently undertaking management training with McDonald's, and is the only Indigenous McDonald's manager-in-training in the Northern Territory.
"It takes about six months to finish the training," she explains. "But once you've completed the first few components of the training you can start running shifts and taking on more responsibility."
McDonald's has nominated Cherisse in the Northern Territory Young Achievers awards in the Career Achievement and Leadership Award categories. Winners will be announced this month.
"I had no idea they were going to nominate me for an award," Cherisse admits. "It was a bit of a surprise."
As far as her future plans go, Cherisse hopes to do well at uni and get a good job as a midwife somewhere out of Alice Springs.
"I'd like to gain as much experience as I can," she says. "Then I can bring that experience back here to help people in my own community."