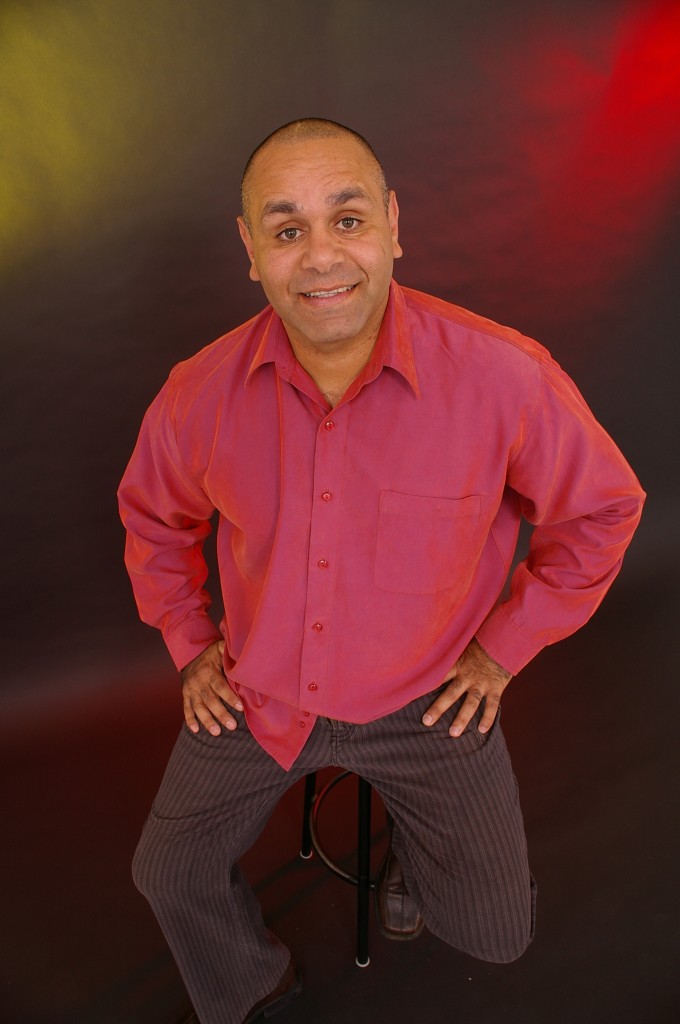 Three of Australia's top Indigenous comedians will open the Deadlys show at the Sydney Opera House on 10 September.
Kevin Kropinyeri, Sean Choolburra and Shiralee Hood are preparing for the Deadlys Comedy Gala which begins at 7.30pm before the Concert Hall ceremony at 8.00pm. Drawing on their talent and experience from stand-up comedy and seasoned comedy routines, including those performed at the Melbourne International Comedy Festival, the three comedians are looking forward to 'warming up' the audience ahead of performances including Christine Anu, Archie Roach, Paul Kelly, and Jess Mauboy.
"The bigger the crowd, the more flamboyant I get. I think the smaller crowds are harder to work. I love the big stage and my mob love to be entertained with our own brand of comedy," he says.A Ngarrindjeri man, Kevin Kropinyeri has performed all over the country and finished a heavy schedule with the Melbourne Comedy Festival last year, doing 22 shows. His goal as a comedian is to help show Australia just how funny his mob is.
Kevin's comedy career has been inspired by the likes of Russell Gilbert, Carl Barron, Mick Molloy and Sean Choolburra.
"Sean is the reason I got into comedy in the first place. I saw him perform at the 2007 Deadly Awards, warming up the crowd – he had them in stitches and I thought, I can do that. Then I went into a comedy competition and ended up winning that."
Kevin will be in good company at the Deadlys with Sean Choolburra who's finished a successful show 50 Shades of Blackness at the Melbourne Comedy Festival earlier this year. Like Kevin, he also works with community, getting the important messages out through humour.
A Girramayi man, Sean began his comedy career following a career as a professional dancer with the Bangarra Theatre Company, putting his name down at the Comedy Store on a whim.
"Here I was a blackfella who'd watched a few comedians and now I was putting my name down at the Comedy Store, and they were saying, 'you go on in 5 minutes'.
It wasn't such a bad debut though, and Sean went on to win the Triple j comedy comp at 33 years of age, and has been performing ever since.
Ngungar-Kurni woman, Shiralee Hood is a also a seasoned performer, working with Aboriginal inmates through her radio show Beyond the Bars, as well as performing stand-up comedy.
"I'm a stand-up comedian myself and comedy is a different way of thinking and expressing yourself."
Shiralee performed at the Canberra Comedy Festival earlier this year and has been described as Australia's number one female Aboriginal comedian. Winner of Deadly Funny 2009, and nominated for a 2012 VIPA Award, Shiralee has been rocking audiences across Australia with her comedy style.
Deadly Award finalists have been announced and voting in Australia's largest Indigenous awards night is OPEN until 18 August.
Tickets to the Deadlys® are on sale through the Opera House booking office (02) 9250 7777 or head HERE.
The Deadlys® 2013 will air on SBS ONE on Sunday 14 September at 9.30pm and repeated on NITV on Wednesday 18 September at 9.30pm. You can keep up to date with all the Deadlys® news at our facebook page and through Twitter. You can also head to www.deadlys.com.au and subscribe to Deadly Vibe Wire at www.vibe.com.au.