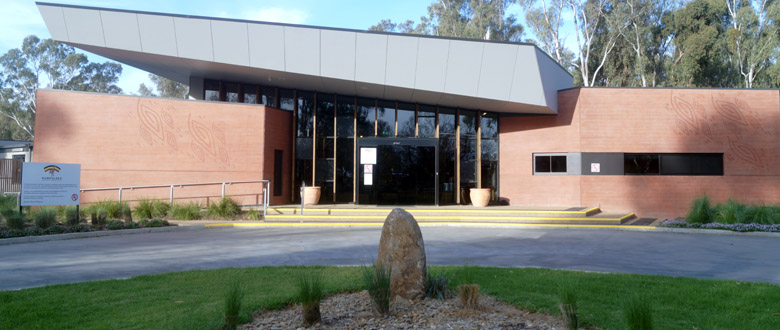 Rumbalara Aboriginal Medical Service (AMS) at Mooroopna is a very busy Aboriginal Medical Service servicing the greater Shepparton region in central Victoria. The clinic is a few kilometres out of Mooroopna, set among gum trees in a beautiful, peaceful and historically important location.
Rumbalara meaning 'Rainbow' has a traditional history dating back thousands of years and is home to the Yorta Yorta people. In the 1940s, large numbers of people who were dissatisfied with and conditions at Cummeragunja Mission Station moved into the area and settled.
Rumbalara Aboriginal Health Service was established in 1981 and over the years it has grown into a 'one stop shop' for primary health care. Since its inception, Rumbalara has gone through many changes, but at its core it provides culturally sensitive and appropriate health services that are delivered with a holistic and team approach to the local Aboriginal and Torres Strait Islander community.
Practice Manager Karen Sutton Practice says Rumbalara is a large organisation that covers over 10 separate areas.
"We are the third largest Aboriginal Corporation in the country with over 3000 patients on our books and 1500 of them are actively registered," Karen says.
"We cover over 10 areas including: Housing, Justice, Medical, Dental, Health Promotion, Community Health Nurses, Women's and Children's Health, Antenatal Care, a Transport Service, Mental Health team, Drug and Alcohol services and spiritual well-being services, Regional Hearing Assessment, Diabetes treatment, Stolen Generation and Bringing Them Home Counsellors, Heart Health, a Health Promotions Unit and Aged Care services."
Karen says Rumbalara has three doctors as well as visiting specialists including a Chronic Illness program physician, Gynaecologist, Podiatrist, Optometrist, Diabetes Educator, Midwife, Maternal and Child Health Nurse, Massage Therapist, Naturopath and a Paediatrician.
"There is over 60 staff at the centre," Karen says.
"There is also a 30-bed Elders Facility, and a Traditional Healing Centre that has received a grant to do healing practices. We are interested in using traditional bush medicine plants and bush essences. We are trying to get them to back into use."
For more information about the service visit: www.rumbalara.org.au/ or contact (03) 5820 0035. The centre is open weekdays from 9am to 5pm.