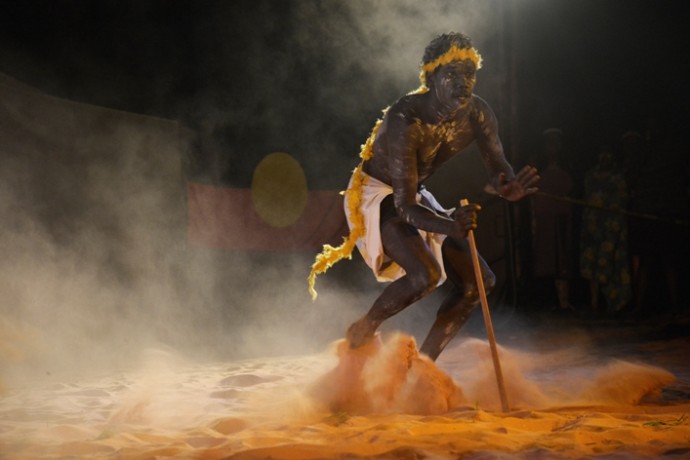 The Greek philosopher Aristotle once said that "the secret to humour is surprise" and not much is more surprising, or humorous than Yolngu men from the remote Galiwin'ku community (Elcho Island) in North East Arnhem Land suddenly stopping a traditional dance routine accompanied by yidaki's and proceeding to perform a rendition of Zorba the Greek.
Formerly known as the Chooky Dancers, Djuki Mala (Chooky Dancers in Yolngu Matha) formed in 2007 after choreographing and performing a piece on a basketball court in Ramingining which has subsequently amassed over 2,300,000 views on YouTube. They're a crowd favourite with their lovable, unpredictable style that keeps audiences guessing and catches spectators off guard, resulting in collective laughter.
Now Djuki Mala has taken their self-titled unique, quirky and surprising – but equally as heart-warming – act on a national tour, wowing audiences but all the while raising suicide prevention awareness among the crowds.
Creative producer and Artistic Director, Joshua Bond, who has collaborated with Djuki Mala for over a decade, says the new show is of an "autobiographical and retrospective" nature and chronicles Djuki Mala from conception up until now.
"Djuki Mala continue to break new ground cultivating contemporary Indigenous dance blended with physical comedy, and this tour will include retrospective work that will be influenced by the early YouTube phenomena in 2007 where the ensemble performed Zorba the Greek through to their last tour of Australian festivals – Wrong Skin," says Josh.
"It provides an opportunity for us to tell our own story and provide the audience [with the opportunity] to share in some of the more intimate moments that have shaped Djuki Mala."
Djuki Mala has been performing all over the world in the last few years but has now returned to Australia to continue captivating audiences. Having already performed their new show to sell-out crowds in the Northern Territory and Queensland, the boys are just only getting started, still having the rest of Australia to enthral.
"The shows have been selling out and standing ovations at every show – it's been awesome. It couldn't have had a better response," explains Joshua.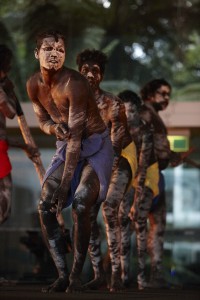 Although not a major theme throughout the show, Djuki Mala hopes to take a message of raising suicide prevention awareness with them throughout the tour – something that is close to their hearts.
"A couple of months ago we were all sitting around yarning and it [suicide] is something that's a reoccurring theme in all of our lives over the last 12 months. We'd all been affected by youth suicide in our own immediate families," he says.
"We started looking into it more and realised that is something affecting our families right across Australia and, even more that, it's almost an epidemic."
Prevention awareness needs to be spread, and Djuki Mala aims to raise this awareness in a non-confrontational and relaxed environment.
"Djuki Mala's providing us with a voice to be able to take a bit of that story with us and helps spread awareness and inspire some action around the country," says Josh.
"We all believe that despite what race, religion, ethnicity or culture you come from, as human beings on the planet we all have a responsibility to tackle suicide prevention in whatever way we can – we're all accountable."
The show, that's proudly presented by ArtbackNT: Arts Development and Touring, will continue to tour the country until September. For more information, including ticket information, visit www.djukimala.com
If you are concerned about anyone in your community, you can phone Lifeline Crisis Support and Suicide Prevention for help on 13 11 14.
Pictures: Wayne Qulliam