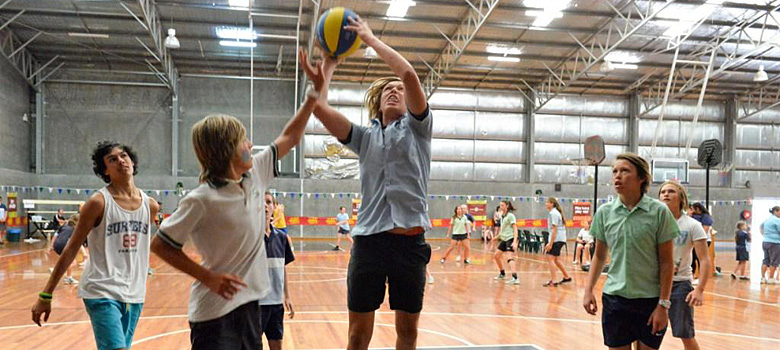 Get ready Mount Gambier – the popular National Indigenous 3on3 Basketball and Hip Hop Challenge – the Vibe 3on3® is heading your way on Thursday, 28 November.
Vibe Australia produces the Vibe 3on3®, a travelling sport and music festival that brings together Aboriginal and Torres Strait Islander students and non-Indigenous students for a fun day of basketball, dancing and music. The event encourages sportsmanship, teaches new skills and builds self-esteem, as well as promoting reconciliation at a grassroots level.
Students compete in teams of 4-5 players at the Vibe 3on3® in a range of activities. The action-packed event features a 3on3 basketball tournament, rapping and break dancing lessons, art workshops, and a dance competition. There is also a health expo, all accompanied by a backing track of the latest RnB, hip hop and Aboriginal and Torres Strait Islander music.
The 3on3 also features an opening ceremony and a free healthy breakfast and BBQ lunch.
To participate, young people need to pre-register in teams of four or five through their school by Thursday, 21 November.
"Ask your teacher if your school is getting involved and encourage them to register you and your mates," says Vibe Community Engagement Manager Medika Thorpe.
The event is capped at 400 students so get in quick to gain your spot. The event will be held at the Icehouse Basketball Stadium, Commercial Street West, Mount Gambier. Registrations for the Vibe 3on3® are open online or by telephone, and schools can visit
www.vibe.com.au/vibe-3on3/registration to register, or call 02-9361 0140.
The Vibe 3on3® aims to promote healthy lifestyles, strengthen communities and boost self-esteem. The Vibe 3on3® is also an excellent opportunity for primary and mental health services and related organisations to introduce themselves to the wider community. For more information go to www.vibe.com.au
Vibe would like to acknowledge the assistance of "Supporting Communities to Reduce the Risk of Suicide" component of the "Taking Action to Tackle Suicide" Program.
The Vibe 3on3® would not be possible without its Principal Sponsor the Department of Health and Ageing as well as our sponsors – the Department of Regional Australia, Local Government, Arts and Sport, Headspace and Australian Government – Closing the Gap and our supporters the Jimmy Little Foundation, Koori Mail, Deadly Sounds, Deadly Vibe and vibe.com.au. For news, stories and information on Closing the Gap, visit indigenous.gov.au.
Vibe would also like to acknowledge its local sponsors Collins Court Butcher and the City of Mt Gambier.