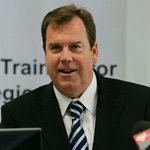 A bill was introduced into parliament on Thursday that is designed to quicken the resolution of native title land claims by giving more powers to the Federal Court.
Introduced by Attorney-General Robert McClelland, changes to the system would give the Federal Court, which has dispute resolution experience, a central role in managing all native title claims, including deciding who mediates a claim.
A central plank of the system when it came into force in 1994 was to resolve land use and ownership issues through negotiation rather than litigation.
"Regrettably, this admirable intention has not been realised," said Mr McClelland.
"For over 15 years, millions of dollars have been wasted on unproductive and unnecessary litigation.
"An opportunity for reconciliation has all too often become an instrument of division.
"On current estimates, it may take another 30 years to resolve all native title claims.
"It is a tragedy to see people dying before their peoples' claims are resolved."
Under the new bill, when parties were deadlocked, the court could use its case management powers to ensure matters didn't languish.
Mr McClelland said parties behaving with less than good faith could be more forcefully pulled into line.
The changes would encourage a broader and more flexible approach and a move from the traditional adversarial approach.
"No-one but lawyers benefit from costly and time consuming litigation," he said.