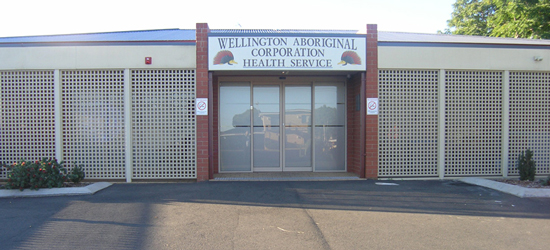 AMS of the Week Wellington Aboriginal Corporation Health Service (WACHS) is an Aboriginal Community Controlled Health Organisation, which aims to provide complete health care to improve the physical and emotional well-being of the Aboriginal and non-Aboriginal population of Wellington and surrounding districts.
The small town of Wellington is a remote rural community with a population of approximately 8000 people. WACHS sees an average of 20 clients per day, with 67 staff and specialists from Wellington and the surrounding districts. "We have strong, committed and professional staff who are primarily responsible for the success of the organisation. This mixed with a strategic, skilled and community dedicated Board ensures WACHS maintains it credibility as a service provider and a business," Operations Manager Melissa Mills says.
The organisation offers many programs and services to address the prevalent chronic illnesses in the area that includes asthma, diabetes, renal disease, heart disease and chronic obstructive pulmonary disease. A fundamental concern of WACHS is antenatal care. Antenatal care is provided under the Healthy for Life program, with staff attending the weekly clinic and supporting the local GP's. Many local resources for pregnancy and postnatal care have been developed as well as a standardised antenatal assessment to ensure expecting women receive the same care on presentation at Wellington.
Health checks are provided to both children and adults and are carried out by the GP. The checks are not only conducted on site but at schools, preschools and outreach clinics. As part of the health service's youth program, education and skill development programs are offered to Aboriginal youth in the community. It aims at enhancing awareness and support in relation to issues such as drugs, alcohol, sexual health, mental health, general health issues, culture, and general life skills.
Many more services and programs are run through WACHS such as – GP service, health checks-care plans, visiting specialists, exercise groups, dietitian, podiatry and eye health. The goal of the health service is to improve the quality of life of the people living in the community, surrounded by a beautiful landscape and traditional home of the Wiradjuri people. WACHS is open Monday to Friday from 8.30am to 5.00pm. It is located at 28 Maxwell St, Wellington. Contact them on (02) 6845 3545. For more information visit – www.wachs.net.au.