One of Central Australia's most popular bands, the Tjintu Desert Band has recently announced dates for their multi-state Desert to Saltwater Tour, with an album Tjamuku Ngura (Grandfather's Country) also due for release in October.
No strangers to the NT music scene, and having toured with Gotye's band The Basics, Tjintu Desert Band (previously known as the Sunshine Reggae Band) has been playing together since re-forming in 2002.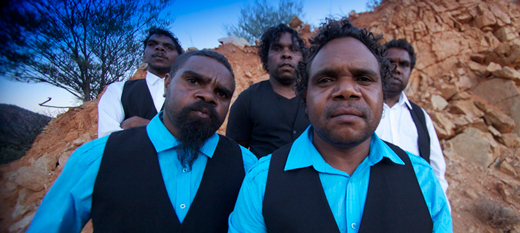 Hailing from Haasts Buff, the band is made up of five members; Joseph Zimran on keyboard, Aaron Sharpe on Bass, Kieran Multa on drums, Jeffrey Zimran as lead guitarist and vocals, and Terry Marshall on vocals and rhythm guitar. "We all had different ideas and met up while we were at school learning how to play guitar, drums and keyboards. We started playing different music and thought we should get together," Jeffrey says.
The band's sound is unique and encompasses funk, rock and desert reggae with powerful lyrics sung in both Luritja and English. "We sing about our country and we send a message to our young people to stop drinking.
We want to take our music further and be role models to our young people," he says. In the last few years Tjintu has gone from strength to strength in the industry. In recent years they have completed a tri-state tour supporting Narbalek, played at high profile festivals such as Wide Open Space (2011-2013), Island Vibes, Green Fest, Sandtracks Tour, Dreaming Festival, and Bush Bands Bash.
They recently finished recording their new album with CAAMA's sound producer Tim Cole, who has worked with many of the greats – Archie Roach, Frank Yamma, Iwantja, Warren H. Williams, Shelley Morris and the Song Peoples Sessions. Their Desert to Saltwater Tour will include 11 concerts and visit four states with support act Radical Son. Radical Son is a two-time Deadly Awards nominee and has been established as a band for five years.
Their soulful, hip-hop sound has previously been described as "powerful and electric" and the band was featured in the song 'Kapi' by Tjintu Desert Band last year.
The bands will begin their tour this Saturday, June 29 with their first show in Sydney. They will then proceed to Cessnock on July 3, Mackay on July 6 and 7, Bathurst on July 9 and 12, Upwey on July 17, Moorabin on July 18 and wrap up in Canberra on July 20.