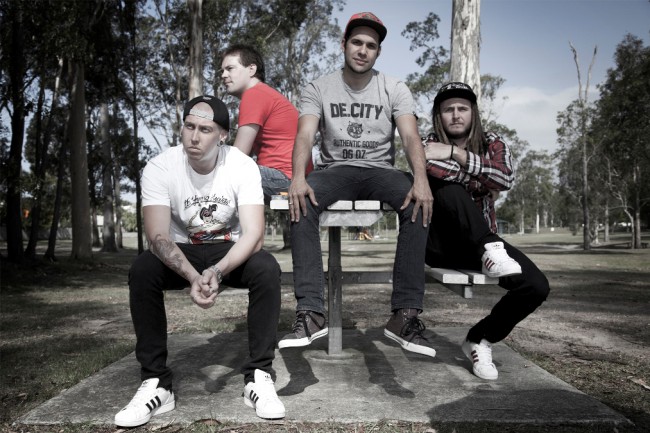 Metal turned hip hop band reaches for the stars
Making an extreme musical transition from hardcore metal to Aussie hip-hop (with hard-hitting lyrics) could only have been done smoothly by a band like DieVsCity. The name, pronounced as 'diversity', is certainly a fitting one.
DieVsCity was formed in 2011 by Kyel Dancey, an Indigenous hip hop artist and youth justice worker from Logan City, Queensland. Kyel's Indigenous heritage is linked to the Thompsons of Barcaldine, the Danceys of Dirranbandi and the May family from Wellington, NSW.
Growing up together in the Brisbane area, Kyel, Locky Paul and Luke Taylor formed a hard-core metal band called Torn Asunder. They had been playing metal for about five years when Kyel suggested they mix it up with some different genres. Ric Parker later joined after being involved in recording DieVsCity's debut EP.
"We just wanted to have a different approach and try something different. In 2011, we just started this as a side project and it kind of just took off from there," Kyel says.
"I wanted the concept to have the music and the span. I wanted it to be diverse, basically, and different."
Their first EP finds the band defining their unique sound on a more commercially mature and professional level. Kyel thought up the name for the band.
"We drew inspiration from lots of styles of music, so I had 'diversity' in my head. DieVsCity just came to me one day when I was driving along in the car, and I thought 'Oh yeah, that's pretty cool.'"
Over the past two years, DieVsCity has already racked up a few awards. They won the 2011 Q Music Award for Electro/Dance Track of the Year just two weeks after recording their first song – an amazing feat for a hip hop band.
"We took out Dance Track of the Year with Q Music in 2011 and that was before we even released the EP so that was a highlight," Kyel says.
But they are not just about hip hop, of course. They want to play music that will appeal to a wider audience, mixing hip hop with different sounds.
"In 2012 we were invited down to play at the Opera House in Sydney and perform at the 2012 Music Oz Awards, where we took out Best Song of the Year in the Alternative category," Kyel told inVibe.
When the band members aren't working, they're catching up and writing new songs. In the future they hope to travel.
"We like travelling. The whole point of why we got into this was to get to the point where we could sustain ourselves to be on the road for long periods of time and experience different cultures and things like that," Kyel says.
Last year, DieVsCity toured New Zealand playing seven shows. During their time on the South Island they made some good contacts and got a taste for the performing lifestyle.
"A couple of months later the university's UCSA in Christchurch called us back to play at a festival that they were running," Kyel says.
"We've made some good contacts over there and look forward to going back soon."
Coming from a community and public service background, Kyel says it's easy to reflect on his experiences and stories from his work, then relay them into song form.
"Each song's got a different message. We try to write our songs as stories. We did a lot of that with the EP – each song is kind of its own story," he says.
"What I'm trying to portray is some of the stories I've gotten through work and through life experience. We tend to write songs but we tend to have stories behind them."
The band members aren't afraid to put in the hard yards and they've already shot three music videos. "Life's Grand", "The Stars Have Aligned" and "Out of Sight Out of Mind" are racking up the views on YouTube and another video from their album is coming out soon.
"It's been in the works for ages. We had it finished and recorded about four months ago, but it was just kind of pulling everything together, getting it promoted and getting ready for the launch. We've been getting some good feedback," he says.
Their album What Doesn't Kill Us will be available soon on iTunes.