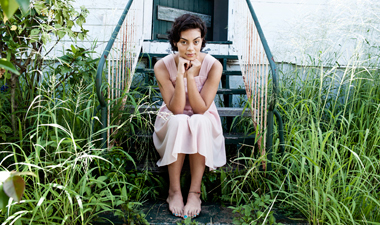 Gamilaroi woman Thelma Plum has had a meteoric rise in the past 12 months, winning awards, touring and now releasing her debut EP Rosie.
But the 18-year-old Brisbane singer/songwriter has kept her feet firmly on the ground, thanks to the support of family and friends, and is humbled by all the attention. "It's just been amazing and I still wonder when people come to my gigs 'are you here to see me or why does the media want to talk to me'. When I won the Sydney Opera House Deadly Award for best emerging talent, I was surprised because I had missed out on the Most Promising New Talent Award so I didn't think I was going to win anything. When they called my name, I thought I was imagining it," she says. "The Triple J National Indigenous Award, being signed with Footstomp Music and releasing the EP; everything has just been amazing and I'm really grateful for the success."
It wasn't so very long ago that Thelma was finishing high school, studying at the Brisbane Music Industry College where she polished her music skills, and also worked as a nanny. "I'm absolutely surprised by the last 12 months. Before, I was working as a nanny and gigging at coffee shops. It still spins me out when people come to my shows," she says. Rosie was named after her dog of 16 years, her best mate and childhood friend, and the songs on the EP are inspired by a break up with a partner. Initially she wanted to express her hurt and anger in the songs, but as time wore on she realised the songs were more about her own journey. "It was the first time my heart had been hurt, but then I realised that I didn't care whether he heard them or not. They [the songs] were about me and what I was feeling at the time."
Thelma will tour the EP nationally in July, performing in all the major capital cities, and is touring at the moment with singer/songwriter Emma Louise. A self-described folk singer, Thelma finds it difficult to categorise herself into any one genre but says folk is at her roots, but there is also a bit of rock as well. She is currently busy writing her second EP. "I've been writing it on the road and have been taking my inspiration from the places I've been visiting that I haven't been too before. I will often be out walking and a melody will come into my mind but I also think it's important to keep your writing strong, so I will write the words to a song first sometimes," she says.
Thelma grew up in Brisbane but is originally from Delungra, a small town on the Gwydir Highway, 33 kilometres from Inverell. While there are no other music performers in her family, Thelma's upbringing was rich in music. "My family are avid music lovers. Growing up, there was always music playing. Mum always took me to concerts and my first concert was Archie Roach's," she says.
Rosie is Thelma's debut EP and features songs Around Here, Father Said and now Dollar – all of which are making their way into the nation's consciousness. Since the homemade demo of Father Said, Thelma has recorded her debut EP with Tony Buchen (John Butler/Washington) in late 2012. She has also opened national tours for Bob Evans and Emma Louise. She is keenly sought after for festival slots at Bleach, St Kilda, Woodford Folk Festivals and jam packed her tent at Bluesfest in April.