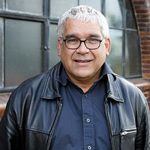 Former ATSIC chief executive Mick Gooda was last year named as Tom Calmas' predecessor as the Aboriginal and Torres Strait Islander Social Justice Commissioner.
A descendant of the Gangulu people of central Queensland, his career included lengthy service to the now defunct Aboriginal and Torres Strait Islander Commission, as its WA state manager and later as its final national chief executive before it folded.
Like Tom, Mick is a mild-mannered moderate with a long career as a federal public servant.
His role is to hold governments to account for decisions affecting Indigenous Australians.
Regarded as a diplomat first, and an activist second, Mick has spent more than 25 years working on Indigenous policy in public service and community sector roles.
Since that time, he has served as chief executive of the Cooperative Research Centre for Aboriginal Health in Darwin, speaking out about the citizenship rights of Indigenous people to basic health care services and urging investment based on research success.