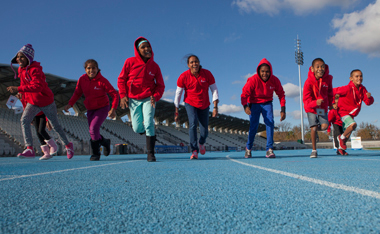 After an incredible sporting career, Olympic gold medallist Cathy Freeman says she's found a new passion. In her interview with television show The Bottom Line which goes to air on Channel 9 tomorrow, Cathy talks about everything from her feelings about her most famous gold medal win, to her work with the Cathy Freeman Foundation.
The Bottom Line is a half hour interview series with some of the best leaders in the world. As well as Cathy Freeman, this series at noon Saturdays on Channel 9 will feature Lindy Chamberlain, Peter Garrett, Lindsay Fox, General Peter Cosgrove and James Morrison. During the interview which Deadly Vibe previewed, Cathy talks about her life after sport – that she never really took the time to sit down and think about what life would be like after her big win at the 2000 Sydney Olympic Games.
She contributes this to her loss of passion for the sport. "I certainly didn't expect for the hunger to go, for the fire in the belly to just go out. So I was left almost with nothing in terms of my identity," Cathy says. "Of course I knew who I was, my family and my heritage, but it almost doesn't have any meaning if you're not doing something you're passionate about." It was then that she threw herself into her work for the Cathy Freeman Foundation, which has now been running for seven years providing support and encouragement to Aboriginal children and communities.
The Foundation's primary focus is on allowing Aboriginal children to have their own Olympic gold medal moment. "We want to allow Indigenous kids educational opportunities and we're certainly about bridging that gap between Indigenous and non-Indigenous education in Australia," Cathy explains. "The board and the staff are super committed and passionate, and the community we're working on at the moment (Palm Island) are generally empowering themselves with these opportunities." Palm Island is not only one of the largest remote and most disadvantaged Aboriginal communities in Australia, but is part of Cathy's heritage. Her great grandparents were sent to the island from the mainland, and consequently both her grandmother and mother were born there. Cathy explains that Palm Island is the fourth most disadvantaged community in Australia, with an unemployment rate of 90 per cent. "Hence why we're focussing on the children and educational opportunities for the kids. They are our future and it's important that we make sure they are equipped," she says.
Through all the ups and downs, Cathy says her mum has been an incredible role model to herself and daughter Ruby. "She's been an immense tower of strength even though at times we've been physically apart for a few years. She's always in my corner, always there loving me as she does with my other brothers and sisters." You can catch the full interview with Cathy Freeman on Bottom Line, tomorrow at noon on Channel 9.