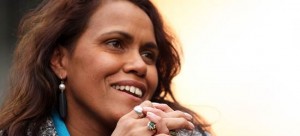 Our own Olympic hero Cathy Freeman is set to join the growing list of Aboriginal people who have run the New York City marathon. Next month, Cathy will join 11 runners from Robert de Castella's Indigenous marathon project and run as a 'deadly runner' – a dedicated running team set up by the Cathy Freeman Foundation (CFF) to raise awareness and funds for Indigenous children living on Palm Island.
"The passion and commitment the IMP group have, has inspired me to take on this new challenge and I feel proud that the CFF and IMP are helping create a way for Indigenous kids to 'have a go,'" says Cathy Freeman.
The Indigenous Marathon Project uses running as a vehicle to create Indigenous leaders and to promote physical activity and healthy lifestyles.
Since 2012, 17 Indigenous men and women have completed the New York City and Boston Marathons as part of the project.
Australia's greatest ever marathon runner and founder of IMP, Robert de Castella says "Cathy and the IMP athletes are sending a powerful message to Indigenous Australia:
if you can run a marathon, you can do anything."
Cathy says, "Attempting my first marathon is just as physically and mentally challenging for me as anyone else. I am determined and driven to try and to hopefully inspire Indigenous kids with the support of the IMP team. I know I can get there – even if it may be slowly!"
The Cathy Freeman Foundation supports the education of more than 600 school-aged children living on Palm Island, one of Australia's largest remote Indigenous communities.
To get behind Cathy in her run and show your support for Indigenous education, visit Cathy's fundraising page at www.gofundraise.com.au/page/cathyfreeman and follow her training progress on Twitter
@CathyFreemanFnd. For more information on the Cathy Freeman Foundation, visit www.cathyfreemanfoundation.org.au