World champion athlete and Olympic medallist Cathy Freeman is the 1998 Australian of the Year.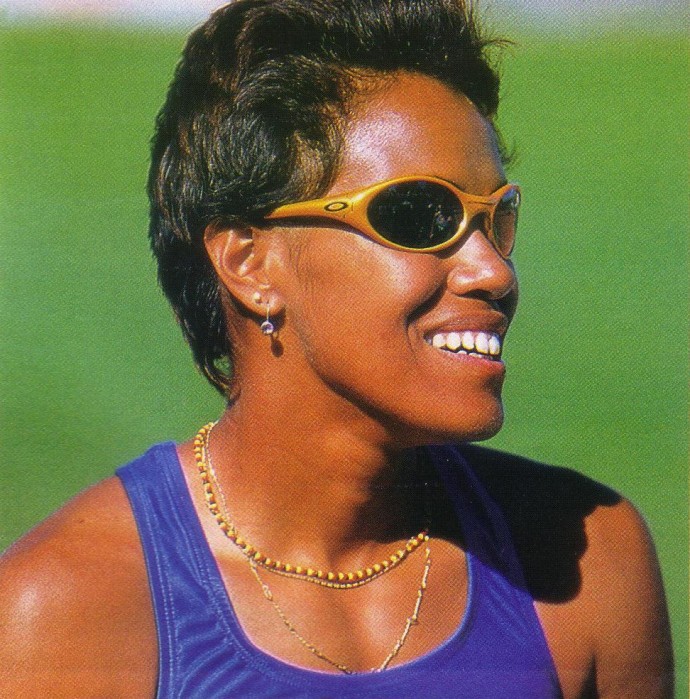 The award recognises not only Cathy's outstanding achievements as an athlete but the inspiration she provides to all Australians through her pride in her country.
Cathy Freeman was the first Aboriginal athlete to win a Commonwealth Games gold medal and the first to represent Australia at an Olympic Games. She is the first Australian woman to have run the 400 metres in under 50 seconds. In 1997 she became the first Australian woman to capture a world track title. Cathy now achieves another "first". She is the first person to have been named as both Young Australian and Australian of the Year.
Cathy, now 25, was born in Mackay, Queensland. She was 16 when she was selected to represent Australia at the 1990 Auckland Commonwealth Games, where she won gold as a member of the 100 metre relay team. She won double gold at the 1994 Commonwealth Games, in the 200 and 400 metre events, breaking the Australian record in the 200 metres. Cathy proceeded to smash her own Australian record for the 400 metres at the Grand Prix final in Paris, running the distance in 50.04 seconds, behind Olympic Champion Marie – Jose Perec.
Several victories on the IAAF Grand Prix Circuit in 1995 secured Cathy the number two world ranking for 400 metres. She ran the 400 metres in 50 seconds in 1996, competing in the NEC Classic. Subsequent wins saw her crowned Grand Prix Female Athlete of the Year.
In winning the silver medal behind Perec at the Olympic Games in Atlanta Cathy became the sixth fastest woman ever over 400 metres, and ran a Commonwealth record. She proceeded to secure another three Grand Prix victories after Atlanta, beating Perec in one of them. Cathy's victory in the 400 metres in August last year at the world track and field championships in Athens confirms her number one ranking over 400 metres and her place in Australian sporting history.
Cathy's achievements as an athlete stand alone. But it is not only her success on the track that have won Cathy Freeman a special place in the hearts of Australians. Her sportsmanship, her dedication and her commitment to providing a positive role model for all young Australians, especially young Aboriginal people have earnt the admiration of her fellow Australians, and of sporting fans around the world. While it attracted its share of controversy at the time, Cathy's joyous victory lap at the 1994 Commonwealth Games wrapped in the Aboriginal flag and the national flag has become an enduring and potent image of reconciliation and a symbol of hope for the future.
From everyone at Deadly Vibe thank you Cathy Freeman.