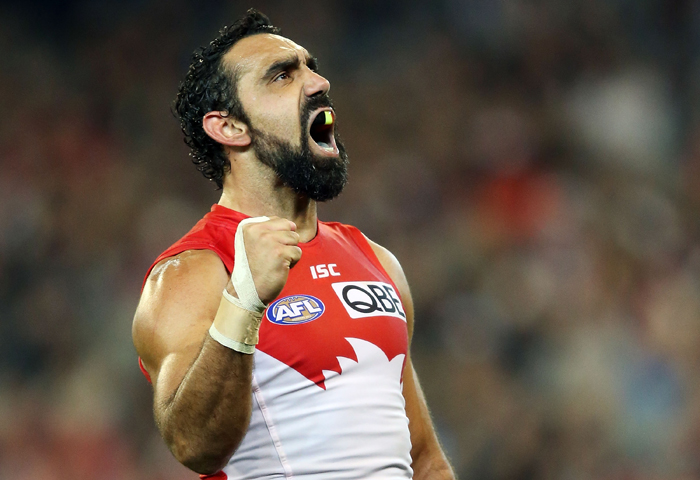 The controversy over a racist comment made to Adam Goodes by a 13 year old girl at the Swans v Collingwood game which opened the AFL's Indigenous Round, deepened this week after Collingwood President Eddy McGuire was cited under the AFL's rules against racial vilification for comments he made on his radio show.
The AFL has ruled the Collingwood president must undergo counselling. McGuire has apologised to Adam, as did the 13 year old girl shortly after the weekend's match. The remarks cut deep and marred what was an awe-inspiring victory for the Swans, with Adam playing a leading role. "I'm pretty gutted to be honest," Adam told the media pack after the weekend's game. "The win – the first of its kind in 13 years – 47 points against Collingwood, and that I played such a pivotal role, just really means nothing. "…It was shattering. I turned around and saw it was a young girl and I was like, really? How can this happen."
Adam is one of the faces behind the Human Rights Commission's Racism. It Stops With Me campaign which aims to raise awareness in Australia of racism. The campaign has put a focus on using sporting heroes as role models, because of the power and influence they command. Human Rights Commission President and Acting Race Discrimination Commissioner Professor Gillian Triggs says research shows there is a strong and persistent minority of Australians that are racist. "After the events of the weekend we had over 100 comments on our website that were really dreadful, and we had to close the comment section down," she says. "Those comments moved into anti-Semitism and racism towards other races in Australia."
Professor Triggs, the former Dean of the Faculty of Law and Challis Professor of International Law at the University of Sydney before taking up her post at the Human Rights Commission, believes Australia supports its First Peoples and is overwhelmingly a successful multicultural country and significantly better off than other countries when it comes to racism, however the strong minority of racists exists. "There is clearly a group within the community who project their own social and economic concerns," she says. Social science research has shown that racism has huge impacts on learning abilities and self-esteem. At its worst, it can escalate into bullying and then lead to depression in the victim. "People shut down and disengage, and then decline," the Human Rights Commissioner says. "The people who are vulnerable are those who often don't have family support. It's particularly harmful in children because they internalise it and the damage is done. We want to ensure we have proper education and support programs in place and get to the families as well."
The Racism. It Stops With Me campaign puts a focus on sport not only because of the impact sportspeople have as role models, but also because of the values epitomised in sport. "You look at the Brownlow Medal [which Adam Goodes won in 2006] that is awarded to the best and fairest player in the AFL. It's not just the best player, but also the fairest," Professor Triggs says. "Through the campaign, we are trying to say stand up against racism and back someone up if they're being racially vilified. We are not saying interfere and put yourself in harm's way but it can be as simple as showing solidarity for the person being targeted." As a lawyer, Professor Triggs believes Australians do not fully understand that racism is against the law and the key to that is education.
The Human Rights Commission is also hoping to work more with rural Australia where knowledge of what constitutes racism may be less than the major cities because of geographical distance, and attitudes more entrenched. "We need to tell the different stories, raise awareness and get the public engaged," she says. "For example if someone doesn't get a job based on their race, they may just accept it and not necessarily know that the reason they didn't get the job is against the law. In the cities, the big employers are more alert to prosecution for racism."