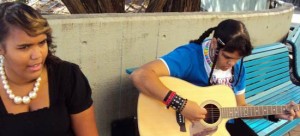 Ngaratya is a Sydney-based duo, comprising sisters Alicia and Emily Johnson. They have just released their debut ep, together, with help from music NSW's Whichway project. So far, in their short career, they have met taboo from the black eyed peas and even performed for HRH Prince William.
Deadly Sounds: In the studio this week, I have Alicia and Emily Johnson, the Sydney-based duo Ngaratya. What does Ngaratya mean?
Alicia: Our father's people were Barkinji – and in Barkinji, Ngaratya means together. We wanted a name that was really symbolic of me and Emily and our relationship. It means 'together' and we both loved it, so it was the name for us.
DS: Some people have referred to you as the new version of Stiff Gins? Do you like being put in a box or would you rather people say that you're completely different?
Alicia: We like the recognition that we're both Indigenous artists and they paved the way for other female artists coming through, but we want to have our own name and establish ourselves.
DS: You were both fortunate enough to get into the Whichway EP project at Redfern. What was that like and how did you find out about it?
Emily: We did the On Track Program first at the Redfern Community Centre, and we got asked to do the Whichway program after that.
DS: The track "Sisters" from the Together EP… what was special about this track? Also, who does the songwriting?
Alicia: Emily writes the music on guitar first and gets the chords together, and then we sit down and write the lyrics together. We were on the Whichway Program when we wrote that. Emma Donovan helped us write it. She has really guided us with writing because we were so new to it. It is a really happy, lifting song, so we really like that one.
DS: Do you fight?
Alicia: We definitely have our tiffs, but it is nothing too serious. Mum and Dad raised us the right way. We're only 14 months apart and we're really close, so I guess it's kind of nice being close in age and sharing a lot of things together.
Emily: I am probably more shy than Alicia, I guess.
Alicia: It depends what situation it is.
DS: Is performing in a studio more important to you than playing live?
Emily: I think performing live is more important because people get to see you doing it and you get to see their reaction.
DS: And what has been their reaction?
Emily: Sometimes they cry, which is kind of awkward but sweet, when we do more emotional songs, but when we do the upbeat songs it is really nice to see people with a smile on their face.
DS: What is it about the song, Emily, that you think is making them get emotional and weepy?
Emily: I guess because we talk about things that are real and that people can relate to and Aboriginal issues, which can be a bit sensitive, but I think we do it in a nice way so that you can enjoy it at the same time.
DS: What does the future hold for you?
Alicia: We want to get back into writing some new stuff. It was awhile ago that we wrote the EP, so it will be a lot of fun just hanging out and jamming again.
DS: If you could be booked for any event what would that be?
Emily: Performing with John Butler because he has a really cool live set.
DS: Why not aim high? You have performed for Prince William, when he visited the Redfern Community centre in early 2010.
Emily: Yes. He was really interested in our music and the program we were on.
Alicia: It was amazing. After we performed our first song he asked for an encore so that was a good sign that he liked it.