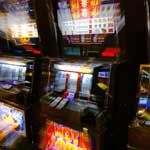 Gambling can hurt more than just your hip pocket.
There are currently more than 300,000 problem gamblers in Australia. For each one of these problem gamblers, many other people are also affected – family, friends, husbands and wives, children, employers and employees.
Gambling is basically risking money on an outcome, usually involving chance. People gamble on poker machines, card games, sporting events, horse racing and lottery tickets.
Gambling becomes a problem when the gambler becomes dominated by their urge to gamble. They may believe that further gambling will help them to solve the financial problems their gambling has caused. It can destroy relationships, health, homes and careers.
Problem gambling is commonly thought of as an addiction like other addictions such as alcoholism and drug addiction.
Warning signs that you may be developing a gambling problem include:
gambling more often than you used to;
gambling alone;
gambling every last dollar you have;
thinking constantly about gambling;
trying to win back money you've lost by gambling;
lying about your gambling; and
worrying about your gambling.
If you think you might have a gambling problem, help is available. See your doctor or Aboriginal Medical Service, or call the support service in your state or territory
ACT – Lifeline Gambling and Financial Counselling – (02) 6247 0655
NSW – G-Line – Freecall 1800 633 635
NT – Amity Community Services – Freecall 1800 629 683
QLD – Gambling Help (Relationships Australia) – Freecall 1800 633 649
SA – Gambling Helpline SA – Freecall 1800 060 757
TAS – Gambling Helpline Tasmania – Freecall 1800 000 973
VIC – Gambler's Help – Freecall 1800 156 789
WA – G-Line – Freecall 1800 622 112
You can also contact Lifeline on 131 114 for 24-hour telephone counselling