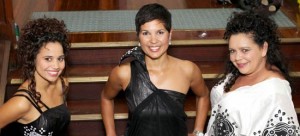 The Deadly Divas are Alisha Nelson and Tahn Donovan and they met while they were both working in the tourism industry and formed their company in March 2011.
Alisha is Nyikina Yawuru (Northwest WA) and Tahn is Wardandi (Southwest WA) and they are developing a clothing range that celebrates the depth and beauty of Aboriginal and Torres Strait Islander Cultures.
Their current range includes innovative men's and women's t-shirts, scarves, wraps, ties and brooches and is constantly growing.
"Australian style and grace, that's our mob, so Deadly Diva's Clothing is making it all divalicious,"  Tahn says.
"Aboriginal style and class – the way that we carry ourselves – we thought if we could bottle that then that is something we could sell. We want to add a little bit of Aboriginal class and style to the wardrobe of women everywhere."
Tahn and Alisha have worked very hard to get their business this far.
"We pool our resources and muster the support of our loved ones to help us realise a dream to celebrate the beauty and grace of Aboriginal people through our clothing label," Tahn says.
"We worked to save to get our company registered and our fabrics printed and then we worked on our designs as we could afford it.
"We have had no external investment – we did it all ourselves. It's all about just having a go.
"Our catch-phrase is 'our time, our way' – meaning it's time for Aboriginal culture to come to the fore. 'Our way' means we will control what we visualise our culture to be and how we will build our business. We want to be accessible to everyone,"  Tahn says.
One of the things the Divas really enjoy is taking their clothes back to Country and holding fashion parades.
"We engage with our community when we run a fashion parade. The last one we did in Busselton, we found the models on the Friday night, we met them and shared our vision with them and they just shone," Tahn says.
"We asked them to walk with the pride of their ancestors beside them, and the Elders in the community were just so proud of what those young people did."
"We feel that we have been very fortunate to have been born Aboriginal and to have our cultural heritage and the support of our communities."
The Divas say they are hoping to expand their business through 'young champions' who are coming through.
"It is going to happen – these young ones coming through are incredibly sure of themselves and their cultural knowledge – they know who they are," Alisha says.
"It is not about me or Tahn, it is about showcasing the people that we are. I am a proud Aboriginal person. I see that as an opportunity to give other people a chance to shine. There are so many inspiring Indigenous people out there working in education, or tourism, or wherever – that shows if you just give people a chance, they can shine. They just need to have that opportunity."
The Divas say they are busy preparing for the Perth Fashion Week, which they have been invited to take part in. It is on from 16 April.
"We are flat out – we have to make all the clothes and accessorise every item we have," Tahn says.
"And we want to take our community with us. We are taking one of our models, who has cerebral palsy. It is about challenging our community – he is Aboriginal, he works full-time, he has a mortgage."
"Any Aboriginal person will understand that when you walk into a room, all of the heads turn towards you – so we say be proud of who you are and make it work for you."
For more information about the Deadly Divas, or to check out their great range of clothes, visit www.deadlydivasclothing.com/