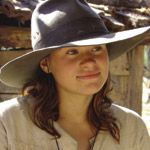 Deadly Vibe Issue 101 July 2005
Step Back in Time
One Aboriginal school girl takes a trip back in time to 1861.
Ever wondered what it would have been like to live life as a station worker back in 1861, before the advent of modern technology, cars or electricity?
Well just ask 17 year-old Danielle Schaefer, a young Indigenous woman from Peak Hill in New South Wales, who recently spent three months filming the ABC's new reality show Outback House.
Outback House places modern-day people into the shoes of early Australian settlers and the local Indigenous people who came to work on their stations.
Through the experiences of its participants, the program explores the myth and reality of squatter life, the hardships that the woman who took on the challenge of raising their families on the hostile frontier faced, an d t he uncertain relationship between the Aboriginal people an d t he squatters who became increasingly reliant on native skills.
The Oxley Downs Station, where the show is set, is located on the lands of the Wiradjuri people, one of the largest and most diverse Aboriginal nations in Australia. In 1861, Wiradjuri country was one of the biggest homelands in Australia and its people were the dominant Indigenous culture in central New South Wales. Making Danielle's role in the show even more special was the fact that she herself is a descendent of the Indigenous people of that area.
"I pretty much went through all the emotions, joy, anger, frustration, and laughter", says Danielle of her experience on the show. "It was the experience of a lifetime.
"I have always had a big interest in history, and so it was a great opportunity to experience what life was life back in 1861."
None of the 18 people on the show were actors, or did any kind of acting. Instead, they assumed real-life working roles, ranging from the squatter and his family to the shepherds, station hands, cooks and maids, the last of which Danielle was.
"Originally it was my mother who was going to be a part of the show, but she eventually decided not to go for it," says Danielle, who won her place on the show ahead of 5000 other people who auditioned. "I went along with her for a meeting with the producers an d t hey asked me if I was interested and I jumped at the opportunity."
All of the participants lived completely under 1861 conditions, which meant no electricity, modern mattresses, beds or furnishing and no modern tools or gadgets like TV or radio. Their diets consisted mainly of mutton, an d t hey performed all of their tasks in exactly the same way as the original men and women of the station would have done, back in 1861.
"I love my mod-cons," Danielle admits with a laugh. "So getting used to that kind of lifestyle was a huge adjustment. I don't think it would have mattered how long I had spent out there, I don't think I would have ever adjusted!
"When the show finished filming and I got home, everything was just jumping out at me " all the things that I had been living without, like the phone, the TV. But I think I missed having a hot shower the most. When we wanted to wash we ha d t o tip these cold buckets of water over ourselves."
Each day Danielle would wake up and go about her routine. Firstly, she would get the fires going, and then go to fetch water from the well to fill the urns. She woul d t hen start preparing breakfast and do some cleaning, including washing everyone clothes by hand, an d t hen prepare lunch.
"Physically I definitely got a lot stronger," she says. "We ha d t o carry buckets of water to fill the urns over and over again. We ha d t o wear these corset dresses which made it really difficult. I ha d t o stand over the fire an d t ry to tip these buckets of water into these tiny little holes with one hand while holding up my dress with the other an d t rying to balance at the same time!"
With the show now having aired on national television, Danielle enjoys sitting back and reflecting on her life as an Aboriginal station maid of 1861. However, this time she can do this from the comfort of her own lounge room with all her favourite modern luxuries.
"It was great getting to see everyone from the show, because we all became really close over the three months," says Danielle, who was also a little nervous about how she would be portrayed on screen after all the editing had been done.
After surviving three months of life on Outback House, one of the major positives Danielle has taken from being on the show is a new-found confidence in what she can take on and overcome. Being a year 12 student, she ha d t o catch up on three month's worth of missed work in just a few of weeks, making her achievement even more impressive.
"I think that the whole experience has given me much more patience," she says. "Now I definitely feel like I can achieve a whole lot more."
(Story 1/7/2005 end)