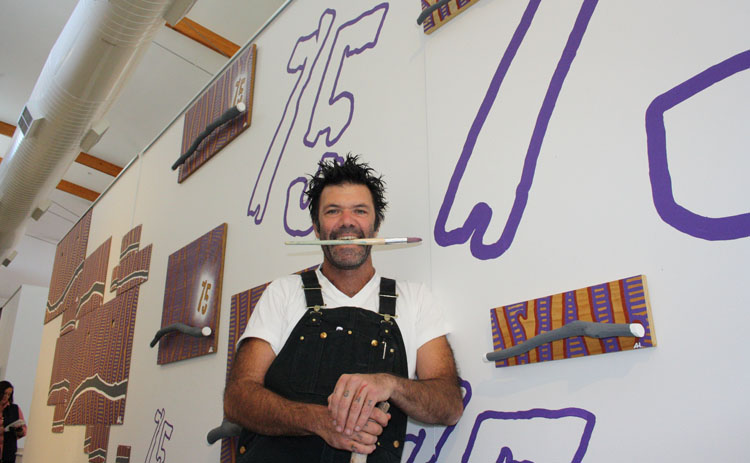 Blak Douglas repaints history
Well-known Sydney painter, photographer, cartoonist and didgeridoo performer, The Blak Douglas (aka Adam Hill) has been busy creating an artwork on a wall inside the Goulburn Art Regional Gallery, as part of an exhibition called Marrambang Meeting.
At a floor talk in the regional town of NSW before the exhibition opening last week, Adam gave a retrospective of his work – highlighting the way his ideas have developed over the years as he moved from graphic design into painting and sculpture.
Adam's association with the Goulburn Regional Art Gallery came out of came conducting art workshops in Goulburn Jail in 2011.  The direction of Adam's art has changed as a result of being involved with these workshops. Part of this new approach involves working with discarded materials and fallen eucalypt branches.
Read more
"People chuck out a lot of stuff like table tops and desks – so I asked myself 'why am I painting on canvass?'  I wanted to look at my environmental responsibility as an artist. I saw what cotton has done to the Moree (NSW) landscape and I see what plantation pine (for frames) does to Eucalypt forest," Adam said.
"It made me ask 'what constitutes being a collectable piece of art?' Is it a massive gilded frame, oil painting on Belgian linen? I am saying that is all bull because you can create a quality artwork on something you find in the street."
Adam's work in this style can be seen Campbelltown Railway Station in Sydney as well in his artwork at the Museum of Australia – Bennelong Had a Point, among other pieces.
"At Campbelltown station, I was trying to replant trees. Working in Goulburn Jail started this style. They have all of this amazing artistic talent locked up inside there – the energy is locked up and not speaking back to the landscape," he said.
"So that artwork is a stylised prison cell – it is the biggest public artwork I have created – but I was commenting on that fact that we are dealing with having one in four blackfellas being in jail."
It is also reflected in his new work at the Goulburn Regional Art Gallery called Half.
"There are areas on the map of languages I have seen where they didn't know who existed there – so they leave it as grey spots. Goulburn is a grey spot, but it also has Gundungurra as the language group on it. I don't believe that any place wasn't resided upon by Aboriginal people. So in my artwork, I have written void across all of that," he said.
"That they are also celebrating 150 years of the (St Saviours) Cathedral in Goulburn is also void – they don't know the history that exited for eons before, so I have deducted 150 from 225 years from the existence of the colony in Australia and you get 75, which is exactly half. I am saying Goulburn needs to go back to its history books and learn more – that they shouldn't get too carried away with being 150 years old – you are only half of what you think you are until you know the complete history."
Marrambang means a 'very good' meeting in the Wiradjuri language. The Marrambang Meeting exhibition also includes the art work of Peter Swain and photographer Perc Carter. The exhibition is on until May 25.
CAP: Artist Adam Hill in front of his new work entitled Half, which can now be viewed at the Goulburn Regional Art Gallery.