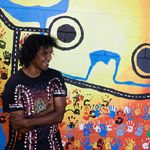 Weetangera Primary School students in Canberra have a lasting memento of the time Murri artist Lewis Langton spent at their school.
The Guugu-Yimidhirr man from Cherbourg Mission painted a mural depicting his map of Canberra that greets students every day when they arrive at school.
"I live in Canberra now and continue to introduce culture, songs and dance from Queensland which I brought to the ACT some nineteen years ago," he says.
"Using Canberra as my base, I have gone overseas taking different dancers from all states and territories in Australia to showcase traditional Aboriginal dancing to the rest of the world. I have then returned to Canberra to teach the young ones about our culture."
More than just an artwork, the mural is a visual reminder to students and staff about the appreciation of Aboriginal culture, as this sample of comments reveals:
"The mural impacts on me because I am Aboriginal and I can see the respect the school is showing. Before the mural I had no idea. The mural has made the school look arty and because it's an Aboriginal mural it is respecting other people's culture. Lewis showed us music, art and how to respect Aboriginal culture in a different way than just being nice." Kaitlin Yr 6
"It's respecting the Indigenous Elders and Torres Strait Islanders." Isabella Yr 4
"The mural makes the front of the school more welcoming. It shows that there is respect at the school. Lewis has painted a beautiful mural in our schoolyard. He also played the didgeridoo which I'd never heard before. It was very loud and exciting." Andy Yr 6
"I feel excited and happy about the mural. Whenever you look at it you see the bright colours which are happy colours. I've learnt more about the Aboriginal flag. I think the school is very lucky to have it. " Velissarios Yr 5
"It respects all the Elders and makes our school look great." Aidan Yr 6
"The students and staff at Weetangera Primary School all enjoyed placing their handprints on Lewis' mural, as an acknowledgement and celebration of our multicultural diversity." Lynn Price, ESL (English as a Second Language) Teacher