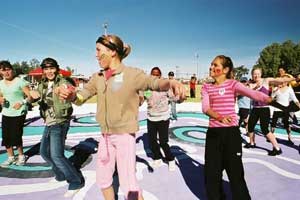 The Vibe Alive festival for Bendigo is shaping up to be an event you don't want to miss, with inspiring role models, local talent and culture and even a visit from Questacon.
Planning is progressing for the two day festival with Aboriginal actor Luke Carroll and River Murray Aboriginal artist Kevin Kropinyeri confirmed as role models for the festival.
Vibe Alive is for young Australians of all backgrounds that celebrates Aboriginal and Torres Strait Islander cultures and will be held in Bendigo, Victoria on 25-26 May at the Prince of Wales Showgrounds (Bendigo Showgrounds), Holmes Rd, Bendigo.
The festival offers two days of extreme fun with dancing, rapping, singing, painting and sport. Vibe Alive's aim is to give young people a chance to express themselves and show their school, their family and their community what they're good at.
This is the second time Vibe Alive has visited Bendigo and the festival is already promising to deliver an action-packed, fun and inspiring two days for young people. Vibe Alive also brings together a host of community talent and commitment – all dedicated to showcasing Bendigo to the wider region.
A special feature of this year's festival will be the visit from Questacon, guaranteed to put the fun into science for young people.
Executive Producer Gavin Jones is looking forward to staging a festival for young people to remember, and to returning with Vibe Alive to Bendigo, Victoria.
"It's a pleasure for our crew to work with local Aboriginal organisations, the local organising committee, the City of Greater Bendigo Council and local sponsors to plan and execute a top rate festival," he says.
"Planning for the festival is going well, with great involvement from Bendigo and surrounds. We are looking forward to visiting and providing an opportunity for fun, activity and learning for young people.
"Vibe Alive is not just about having fun over the two day, though we aim to do plenty of that. Aside from the awesome fun of the festival, there's all the latest information on career choices and how to stay healthy.
"Our Full On Futures career expo has great participation from a range of organizations including universities, government departments, the Indigenous Law Students and Lawyers Association, TAFE, ambulance, police, the Defence Force and Centrelink. It's an interactive expo with plenty of hands on activities to engage students, rather than just picking up a pamphlet.
"There's something for everyone at the festival. We offer activities for young people of all ages and ability levels. Our activities are built on community relationships and reconciliation and cover everything from education, careers, science and the environment to sport, health, and the performing and visual arts."
Vibe Alive is a free event and places fill quickly. Schools can register for Vibe Alive in Bendigo or if you'd like more information sent to you, send an email to [email protected] or call the Vibe Australia info line – 1800 623 430.
Vibe Alive is also looking for Volunteers to be part of the event. If you can help out please contact [email protected]
Vibe Alive is funded by the Australian Government's Community Festivals for Education Engagement program, designed to encourage school attendance, retention and healthy lifestyles for all young Australians, in particular, Aboriginal and Torres Strait Islander students.