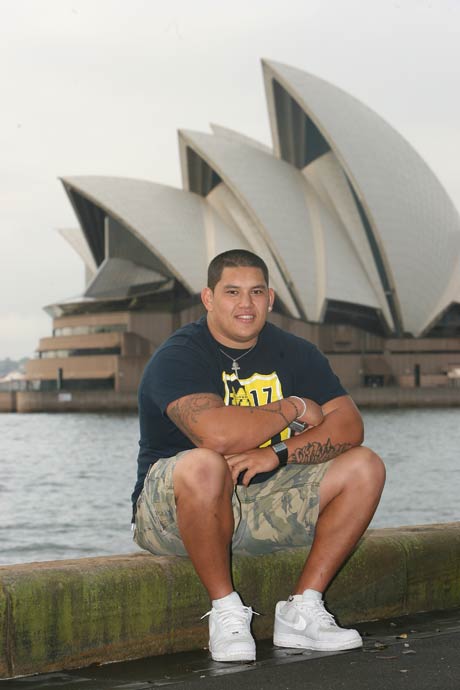 On 6 December, the matadors, the Arizona Western College football team, will run out for their first post-season match in eight years against East Mississippi College. Leading the way for the Matadors will be one of the team's most talked about and influential players of the season, a 19-year-old Indigenous Australian by the name of Jesse Williams.
So just how did a young fella from South Brisbane wind up playing college football in America?
"Well, at 14, Jesse was already over six foot tall and weighed 105 kilograms," explains his dad, Arthur Williams.
"He comes from a big sporting family. I've coached Premier League basketball, and Jesse has played basketball in national competitions and in the CBA, but because of his size he was always worried about hurting people."
After being invited by a friend to play in a touch football version of gridiron, Jesse realised his stature was well suited to the American game, so he decided to begin training with local team the Bayside Ravens the following season.
Jesse took to the game instantly and, despite lining up against boys who were up to four years older than him, he was simply unstoppable. He finished his first season as Rookie of the Year then earnt selection into the Queensland team to play in the State Championships.
At that point, Jesse's goal in the sport was to play for Australia, but he soon set his sights higher when the University of Hawai'i head coach, Rich Miano, attended the State Championships in 2007. After witnessing Jesse's dominance on the field, Miano quickly offered him a full scholarship to the University of Hawai'i.
Offers from more American schools soon arrived and all the pieces eventually fell into place in 2008 when Arizona Western College associate head coach Jerry Dominguez visited Australia to help mentor the National team in the lead-up to a World Cup qualifying match in New Zealand. After seeing Jesse play, Dominguez offered him a scholarship to Western on the spot.
Jesse eventually touched down in Arizona in August, and his arrival has sparked one of the school's most successful seasons ever. Not only did the Matadors win their first Western States Football League regular season title since 1981, but their 9–1 overall record is also the best since 1972 when the school won the national championship.
"When I arrived in Arizona, the first thing that stood out to me was the heat," says Jesse. "It was 46°C, and the whole environment was different to what I was used to. It was a bit difficult settling in because I had to get used to the people and how the school was run."
After settling in, Jesse has relished the opportunity to test himself against some of the best young players in the region and benefit from the high level of coaching that goes into the squad.
"We train extremely hard," says Jesse. "We lift weights early in the morning and have film sessions in the afternoon, then we practise at night and train every day.
"I'm just really enjoying playing football at a higher level and having to compete for my position day in and day out. My game has improved a lot because of that," he adds.
As well as training hard, Jesse also has to maintain a 2.3 grade average as a requirement of his scholarship, which means there's no slacking off in class between games.
"Transitioning from the Australian lifestyle and combining college-level classes with my football schedule has been hard, but if you prioritise your time well you can get it done. It can get tough being away from family and friends, but I know that they support me in my dreams," says Jesse.
After making the big move to America, things have certainly worked out for Jesse. He has already earnt himself all region and conference first-team selections. He has played in all 10 Matador games this year, is among the leaders in all the major defensive stat categories and is the only defensive linesman to start every game this season.
In November, playing against the Glendale Gauchos, Jesse was named Western State Football League Special Teams Player of the Week after he charged through the offensive line twice in the space of 40 seconds to block a field goal and then later an extra point attempt. Then, of course, there is the Matadors' magic run into the post season.
Up there with all of these sporting highlights, Jesse says maintaining one of the highest grade-point averages in the team is among his proudest achievements so far.
With Jesse now raising the profile of Indigenous athletes in the American football ranks, you can expect more American coaches to start looking across the Pacific for new talent.
"There are big opportunities for Indigenous people to get involved in American football, especially with the high calibre of Indigenous athletes in Australia," says Jesse, who will be holding coaching clinics with Australian kids when he returns at the end of the year.
So far, Jesse has succeeded in every goal he's set for himself, from making the state team, then the national team, to testing himself against the best in America. His next challenge is to play for a Division One school. Several are already chasing the 198cm, 140kg defensive tackle from Down Under, who's been dubbed 'The Big Aussie' by the Arizona media.
"He's achieved everything he's set out to do so far, and that's why I know that if he wants to play in the NFL, he will," says Jesse's dad.
The NFL may still be a way off, but if Jesse's track record is anything to go by, it's hard to see anyone, or anything, getting in his way.