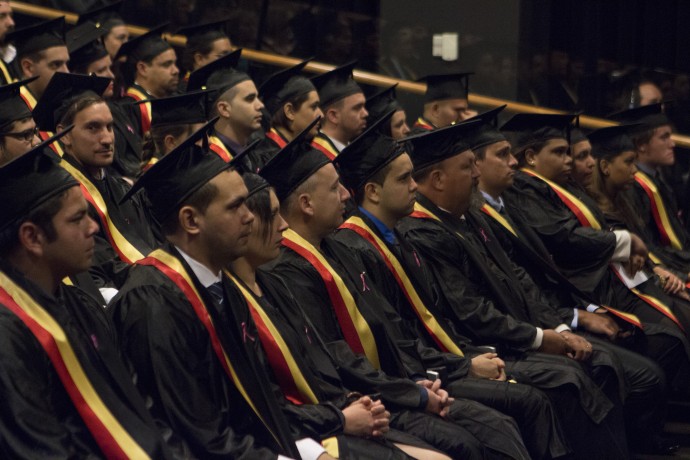 The Indigenous Australian Government Development Programme (IAGDP) combines ongoing permanent employment with structured learning and aims to increase the representation of Indigenous Australians working in government.
Felicia McLean from the Guugu Yimithirr Warra Bamangay and Lyn Cavanagh from the western Kuku Yalandji people were participants on the 2012-13 IAGDP. At the end of the 15 month programme, Felicia and Lyn had both graduated with their Diploma of Government and are continuing to work in the Australian Public Service.
Felicia, an employee at the Department of Prime Minister and Cabinet (PM&C), feels the IAGDP provided her with the opportunity to create positive change for her people.
"The IAGDP has given me countless opportunities to learn, lead, educate others and develop skills that will assist me greatly in my future within the Australian Public Service."
The IAGDP offers eligible candidates a Diploma of Government qualification. Felicia has a strong passion for community development and chose to study the elective Community Capacity.
"Being in class with my fellow participants, learning about the techniques and strategies to use to build the capacity of communities were things we were all keen to learn about…because every time we'd learn something, we'd always seem to find a way to compare it to a situation within our own lives."
Participants on the IAGDP form close relationships as they start and end the programme together, which also includes attending training as a group at scheduled times.
"Our conversations would always come back to our lives, to our passion, to helping Indigenous people. I don't think I would've been able to have such a comprehensive learning experience in an environment unlike this, anywhere else."
Lyn, an employee at PM&C in the Cairns office, also choose to study Community Capacity as her elective.
"I always knew enough information about my family history, but now because I work with and around these specific clan groups it has made me more persistent to find out what my heritage is and how it has made me the person I am today."
"I can honestly tell you that being on this programme gives you such a buzz and you definitely feel part of the family and welcomed with open arms."
The programme includes three main components:
• a diploma-level qualification
• full-time work experience and on-the-job-training
• learning and development opportunities.
In order to successfully complete the programme, participants need to complete each of these three components. They then continue to work in a full-time position in their host government department or agency (home agency).
Applications for the 2014-15 Programme are open now and close on 28 April 2014. To apply or find out more, head to the IAGDP website.