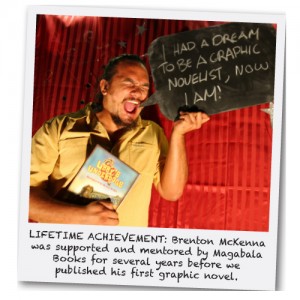 Indigenous authors and illustrators looking for a creative boost have until 13 June to apply for one of this year's Australian Indigenous Creator Scholarships, with Magabala Books.
This is only the second year the nation-wide literary scholarship program has been funded by Broome-based Magabala Books, one of the country's smallest publishing houses.
In 2013, a total of nearly $19,000 was granted to six individuals to meet a variety of needs from paying for mentorship and training to purchase of materials and equipment.
Magabala Books' Philanthropy Manager Sharon Griffiths says the scholarships were funded through the generosity of private donors, who had again made it possible to offer support to authors and illustrators from beginners to those who had already been published.
And for Magabala CEO Anna Moulton the scholarships provided crucial support for the development of both the creators and their future careers.
"Magabala benefits too. The wonderful illustrations for our recent publication The Spotty Dotty Lady were done by Fern Martins, who used equipment purchased with her scholarship funding," she says.
"It was exciting that a small, independent publisher like Magabala could initiate and garner the support of the wider community for a program of national significance.
"This is a unique opportunity for Indigenous writers and artists, and we are now actively seeking applicants for the 2014 program."
Applications opened on April 22 and close on 13 June. The successful applicants will be announced on 9 August. Full information on how to apply can be found at www.magabala.com.