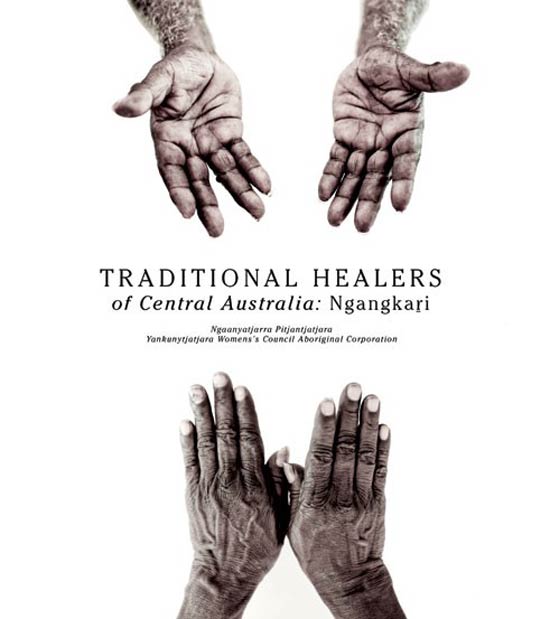 A new book has just been released by NPY Women's Council and Magabala Books about the traditional healers of the Central Desert. It is a fascinating look at the healers or Ngangkari that perform this vital spiritual and healing work on people in the NPY lands. Although the Ngangkari have been practicing their skills for thousands of years, it is only recently that their valuable work is becoming more respected and valued by western doctors and incorporated into hospitals and clinics.
The practice of traditional healing is still very much a part of contemporary Aboriginal society. Ngangkari are currently employed at the NPY (Ngaanyatjarra Pitjantjatjara Yankunytjatjara) Women's Council to deliver treatments to people across a region of about 350,000km2, in more than 25 communities in SA, WA and NT. Ngangkari work collaboratively with hospitals and health professionals, working hand in hand with Western medical practitioners.
According to the book, Ngangkari have the gift of healing hands – mara ala – that hold mapanpa or the Ngangkari sacred tools.
Maringka Burton has been a Ngangkari all her life. Her father Charlie Burton, a well-known Ngangkari, chose her to carry on the tradition, as well as her brother and sister.
"It runs in families because my younger brother is a senior Ngangkari and my two children also know about this work. They are not Ngangkari yet but know what they do," Maringka says.
As a little girl, Maringka used to watch her father at work.
"My father had been a Ngangkari his whole life, and his mapanpa had been given to him by his father. When he finally did give me the mapanpa, I became mara ala – meaning, my hands became open, my forehead became open and I could see everything differently," she says.
"I would watch him work, see what he did, and watch him closely when he was extracting sickness from the person's body, and throwing it away. I was fascinated, and I'd copy what he did, pretending to go and throw away the bad stuff, when he did. I observed my father's practice for years, and I became very knowledgeable. I was like his personal assistant," she says.
Maringka says at night the Ngangkari fly about together in the sky – like doctors making house calls and checking on the health of people. This is called marali.
"When my father finally gave me the mapanpa, I was able to travel into the skies with other Ngangkari, soaring around in the sky, travelling great distances, and coming back home in time for breakfast. Ngangkari travel around in the sky, just our spirits travelling, while our bodies remain sleeping on earth – our spirits join together and travel. My father taught me that. He taught me everything, carefully and slowly," she says.
"In Marali, we look down on all the people and determine who is not well. We can see from above. It allows us to plan work for the next day. All the Ngangkari fly around. We can do healings on people from afar and also we can learn things from people – preparatory work and see what is not right."
She says all Ngangkari can see illness in the body.
"All Ngangkari can see what a person is made up of – can see illnesses that have been in the body for some time and also new illnesses and pain. We can remove this pain and illness," she says.
"During marali, we can find if a person's kurunpa (spirit, will or self) has become disconnected from their body and we take this back down and put it back inside the person's body. They are feeling ill – not like themselves because they are separated from their full spirit."
Maringka says the Ngangkari also work on clearing sadness and emotional pain.
"Sometimes people have bad thoughts that cause them a great deal of worry and anxiety. I work on their head a lot and I cure people who have a headache. We fix injury as well as sadness – mental health – we work on that, too, but sometimes it manifests as physical pain. We can make people feel happier, more balanced and harmonious," she says.
Maringka says Traditional Healing is becoming more accepted in the Western clinics and hospitals.
"It is very well accepted now because more doctors know and understand what we are doing. It is welcomed because we do such good work. I get paid by the clinic. White people also ask me to do healings," she says.
"We go to the clinic to set people up before they go into Alice Springs Hospital. We get them in a better mental and physical state to prepare them for their hospital stay. We also do treatments there. We never stop working – we also in aged-care facilities."
The Ngangkari have been increasingly invited to conferences over the last decade. The NPY Women's Council have put in a big effort to explain what Ngangkari do to doctors and the broader public so they know more about it and have more acceptance of it.
Maringka says as a Ngangkari, she is constantly working.
"I love my work so much that I never refuse a treatment. It is a joy and privilege to heal people so I get a lot of strength from that. I do get tired. But I try to rest when I go home and also when I go away to conferences I get a big rest without interruption – a real treat. My reward is seeing people get better," she says.
Angela Lynch from the Ngangkari Program at the NPY Women's Council says doctors and the Anangu (Western Desert language speaking Aboriginal people) treat the Ngangkari as precious.
"They treat them with a lot of respect. Ideally, people get Western medicine and help from Ngangkari at the same time," Angela says.
"They have a lot of knowledge and wisdom and they work with local hospitals and Elders. They are also artists and are involved with land management, as well as being health workers and teachers."
Angela says the idea for the book came about because of the success of the first book that the NPY Women's Council put out about the work of the Ngangkari.
"The first book that we produced was about educating clinical staff about what the Ngangkari do. This is the second edition and we did this because the first book became very sought after. There were so many requests for it that we ran out of copies," Angela says
"We wanted it to be in the words of the Ngangkaris themselves – rather than a distanced academic approach about what they do – so we recorded them speaking about their journeys as Ngangkari and directly translated them. These are their stories that appear in the first part of the book. They chose and contributed the artwork to it and also made all the editorial decisions about the content.
The second part of the book is called Wangkanyi, which means "to talk". This part of the book talks about the many ways that Ngangkari can heal and support Anangu. Many of these talks were recorded at conferences and workshops.
Traditional Healers of Central Australia: Ngangkari contains unique stories and imagery and primary source material: the Ngangkari speak directly to the reader. Ngangkari are authorised to speak publicly about Anangu culture and practices. It is accurate, authorised information about their work, in their own words.
Traditional Healers of central Australia: Ngangkari was officially launched on March 25, 2013 at the NPY Women's Council. Profits from the sale of the book go back to the Ngangkari.