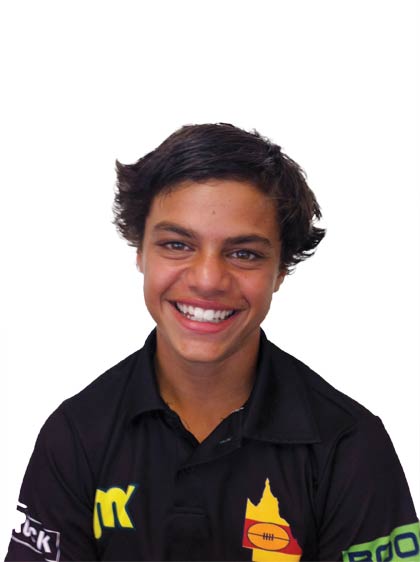 Conrad Green is a young up-and-coming footballer. Recently, he was selected for the Under-15 Queensland State School Boys Rugby League team. The 13-year-old's major passion is Rugby League and he's been playing since he was in the Under-10s. He plays half-back for Mackay Souths' Under-14s.
Conrad reckons the best part of his game is his attacking style. "The best part of my style is reading the game, setting up tries – doing big cut-out passes or putting a little kick over the top. I have a good kicking game," he says.
He is modest, too. When asked how good he is he answers: "I go all right."
Conrad explains how he got selected for the Queensland State School Boys squad.
"They picked a Mackay side to represent at the district level and we went away for the trials. We played against four other Under-15 sides, including Rockhampton, Gladstone, Bundaberg and Yeppoon. From this they selected 19 players," he says.
"From here, I hope to make the Queensland state side at State Titles in May in Wynnum."
"I also made the Under-12 State School Boys side in 2011. We went down to Melbourne and played the other states. We played at the Olympic Park. I scored a few tries and set a few other ones up."
He says his family moved to Mackay from Tweed Heads about two years ago. His parents work in the motel business.
"I go to Mackay State High School (Grade Nine) and I like it a lot. I have some good mates there and they have a great footy camp set up for the boys," he says.
Some of the other subjects that he likes at school are cooking and English.Conrad thanked his parents for their support so far with his football.
"I thank my dad, Craig, for teaching me Rugby League and training me every day, and I thank my mum, Kim, for taking me to the games," he says.
He is also a good swimmer. He was the NSW State Champion for Swimming in Breaststroke in his age group in 2010 and he says he gets his swimming ability from his mum. Although he no longer swims competitively, he does swim to keep fit.
"I still enjoy swimming. I will swim for fitness but not competitively. I also go to the gym twice a week," he says.
Conrad's goals include playing in the NRL. "I just hope to make the NRL and play for the North Queensland Cowboys one day. I will give it my best every day to try and get there," he says.
His idols include fellow halfs, Darren Lockyer and Johnathan Thurston.