Young artist, photographer and sculptor Claudia Moodoonuthi only picked up a paintbrush two years ago, but this girl has already established a name for herself in the art world – one of the toughest industries to break into.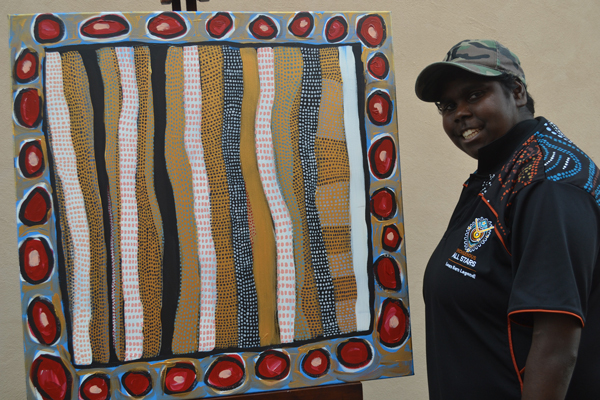 Claudia, now 17, was the proud recipient of an Australian Indigenous Education Fund (AIEF) in 2012.
"I thought it was a great opportunity, so I said yes. The AIEF is a very important program because it gives Indigenous kids the chance to be educated at top schools in Australia," Claudia says.
"It also provides many opportunities and I'm very happy to support them in any way. I hope more community kids are provided AIEF scholarships."
With help from her scholarship, Claudia now attends Griffith University and is majoring in Indigenous Art.
"I enjoy it most of the time, but sometimes my lecturers talk too much, and I want to fall asleep!" she says.
"My literacy level is still growing and my mum is a great help in breaking down the tasks into achievable chunks.
"I also like that my teachers are famous Indigenous artists."
Raised on Bentinck Island in the Gulf of Carpentaria, this Gayardilt woman was a true bush girl.
"I was taught to track, to sing and to dance by my elders. I was told stories about the Dreamtime and my favourite activity was fishing," she says.
"My brother and I also hunted bats and seagulls that we'd cook over an open fire."
Claudia began attending Clayfield College in Brisbane in 2008. It was here that she discovered her artistic talent.
"My art teacher and Head of Middle Schooling mentors always encouraged me to consider painting in light of my Bentinck Island background and family relationships to famous Bentinck Island painters, such as Sally Gabori, May Moodoonuthi, Amy and Netta Loogatha and Paula Paul," she says.
"But the only thing that really got me to paint was me. I had to take a risk and see if I could – to see if I was good enough – to believe that I could do it."
Claudia's relaxed and intimate style of work has a significant meaning behind it.
"I paint my stories. My stories are based on my memories – memories of times I lived on Bentinck Island, with the 'old' girl painters and with my Grandmother, Anne," she says.
"Some of my stories are sacred and some are about happy childhood days. I hope my stories show people how important family is to me – how our responsibilities to each other bind us."
This budding philanthropist is painting herself a colourful path for the future, and she values the importance of helping others.
"I hope to complete my Bachelor degree in 2015, then I expect to work full time in a role that supports others," Claudia says.
"I'm not really sure what that might be. Whatever I do, it will be supported by my painting. I want a long-term career in painting and hope to travel the world, sharing my stories and my works with others.
"I will also travel to and from community, with the aim of creating projects that support the learning development of young people – perhaps I will end up in politics."