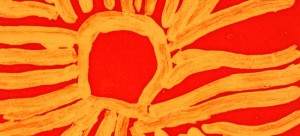 A new exhibition highlighting works of the Papunya Tula Artists opens at the Art Gallery of NSW on 13 December.
The 11 works in pencil and watercolour on paper, made by a small group of Pintupi artists – including Timmy Payungka Tjapangati and Anatjari Tjakamarra are part of the Gallery's permanent collection.
"These artists have revolutionised Australian art and are renowned for their paintings on board and canvas.
They have also produced a small number of works on paper, which will also be part of this exhibition, from the very earliest works produced in 1971 through to the landmark print portfolio Tjukurrpa Palurukutu, Kutjupawana Palyantjanya: same stories, a new way of 2009," says curator Cara Pinchbeck.
On view: 13 December 2012 to 24 Mar 2013.