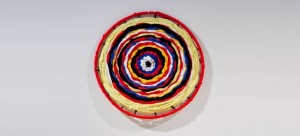 This year's Koori Art Expressions exhibition is an imaginative collection of visual artworks created by Sydney school students from Kindergarten to Year 12. It is now showing AT the Powerhouse Museum.
On display are more than 70 works inspired by this year's NAIDOC Week theme and the 40th anniversary of the Aboriginal Tent Embassy. The works are by individuals or classes and some are whole school projects from over 26 Sydney schools.  The works are across all media, including painting, photography, textiles, sculptures and ceramics.
Powerhouse Museum curator of Koori history and culture, James Wilson-Miller says one of the trends in this year's collection is a greater representation of three-dimensional works.
He highlighted some of the interesting works in the exhibition, including: Under the Beach Umbrella (right) by Sydney Secondary College, Balmain Campus (Years 7–10 students with disabilities).
"This celebrates the blue umbrella beginnings of the Aboriginal Tent Embassy. Beneath two umbrellas, 10 small figurines form a circle in a dance to represent continuous unity and unfailing spirit," James says.
"There is also the The Wheel of Equality  (above) by Banksmeadow Public School (Years 3–6). This is a colourful, woven work inspired by Aboriginal basket weaving. Made using old T-shirts, it features the colours of the Australian and Aboriginal flags – bound together to represent the many links that join both cultures and make them equal in today's society."
In developing the artworks, the students were asked by teachers to reflect on this statement: "To move forward, we must acknowledge our forbearers, learn from their experiences and ask ourselves what their sacrifices mean to me and my family today."
James says he has been impressed by the originality of the students' responses to this question.
"The students have grasped a strong understanding of the roots of the Tent Embassy and thoughtfully translated its meaning in the context of Australian society today," he says.
"The founders of the Aboriginal Tent Embassy 40 years ago would be proud of the young artistic talents showcased in this exhibition that have so beautifully captured the spirit of the Tent Embassy."
Also among the many highlights from this exhibition is Forty Celebration Disks So Far (right) by Botany Public School (Kindergarten-Year 2).  They have used 40 clay disks to represent Aboriginal symbols, including fire, resting camps, men and women. They are strung together to mark the anniversary, but it also allows for more disks to be added for every new year celebrated.
Lost Connection by Year 12 Aboriginal student Jordan Ardler, from Matraville Sports High School, is five artworks that combine photography and dot painting in a captivating collage that portrays the loss of connection to land, identity and culture experienced by the Aboriginal people," says James.
The exhibition is presented in association with Sydney Region Aboriginal Education and NSW Department of Education and Communities. Regional Director of the department, Phil Lambert says the exhibition aims to foster an understanding of Aboriginal issues among school children.
"The annual program aims to develop an understanding of Aboriginal culture and heritage among all students. This year's selection sees a greater representation of three-dimensional works, which has given students more freedom for creative and artistic expression."