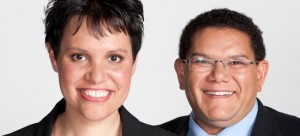 In an historic day for Australia, National Indigenous Television (NITV) begins broadcasting free to air on channel 34 from 12 December 2012.
It is the first time that a dedicated Indigenous television service will be available for all Australians to watch.
To celebrate, NITV will be broadcasting live from Uluru on the day with a special two-hour show, called From the Heart of Our Nation, to mark the official 'switch on' of NITV's free-to-air at noon.
Hosted by Indigenous broadcasters Stan Grant and Rhoda Roberts, the Pitjantjatjara and Yankunytjatjara traditional owners of the area will welcome audiences from around the nation to look at images of their country.
This will be followed by a one-hour Living Black special (from 2pm) from SBS studios in Sydney. Hosted by Karla Grant, SBS's award-winning Indigenous current-affairs program will examine the development of Aboriginal and Torres Strait Islander media in Australia throughout history.
Later in the day there will be a special edition of NITV News with Natalie Ahmat broadcasting live from Uluru and featuring crosses to reporters around the country, before a giant party gets underway, featuring some of Australia's best Indigenous talent – including Christine Anu, Casey Donovan, Archie Roach, Troy Cassar-Daley, Dan Sultan, Warren H. Williams and Frank Yamma. They will all take to the stage to perform as the sun sets for a two-hour concert hosted by Ernie Dingo (from 8pm and simulcast on SBS ONE).
NITV Channel Manager, Tanya Denning says it is all systems go behind the scenes in preparation for the historic switchover.
"It is all systems go here and sometimes the butterflies set in as we realise what an extraordinary moment in history we are all going to be a part of. But in the midst of this excitement, it is still business as usual because there is still a lot of work to do to launch the channel," Tanya says.
"It has been coming for decades and it is extremely important because we are a valued and unique part of Australia that a lot of Australians don't know about. So with the launch of NITV and having the accessibility of information controlled by Indigenous people we are eliminating the excuses for every-day Australians not to get to know us."
Tanya says the "switch on" will be an important event for the whole nation.
"This is nation-building. We are providing images and stories of Aboriginal and Torres Strait Islander people and that is something you don't get on any other channel. While there have been some great developments on both ABC and SBS and some great independent productions in recent years, what we have here is a complete channel with an identity for and by Aboriginal and Torres Strait Islander people," she says.
"That is something that you can't get anywhere else. Aboriginal and Torres Strait Islander people make up 80 per cent of the staff here. We are in control of a channel and we are the ones making the decisions. We have only scratched the surface on what we can do and one of our biggest achievements is our daily live news service, but I am excited to see how this channel will grow."
She says she is also excited about the future of the channel and the country.
"I'm excited about what the future holds for young Aboriginal and Torres Strait Islander people and also for every-day Australians – they are going to grow up in a different Australia to the one I grew up in – having those black faces on the TV screen," she says.
"People in regional or city areas will get to see that there is life beyond their own circle – that there are all of these exciting opportunities for young Indigenous people. It is also great that non-Indigenous people will get to see facets of Aboriginal and Torres Strait Islander culture and the uniqueness that we bring to Australian life."
She says there will be some exciting programming over the next few months, including sports, comedy and news.
"We have Barefoot Sports. They have been experimenting over the last few years and that show is so exciting. We have a great series coming up called Bushwhacked! – starring Brandon Walters – the young star of the film Australia. This is a co-production with the ABC," she says.
"We have Move it Mob Style back again. A lot of audiences have come to love this show from the first series, so in the second series there will be more places, more dances and no more excuses not to get up and move around."
"We will also have some great world Indigenous content coming through, and our news and current affairs programs are growing, too. It is great to have Karla Grant in the team. Our news will continue to grow with more Indigenous journalists all over the country – we really want to get into those remote areas and cover stories from our perspective.
"There will also be more live sports programming and some fun comedy programs coming in the New Year as well, but the focus for the immediate future is to get this channel growing and having that security in the greater media landscape."
The new NITV channel will maintain editorial responsibility over delivery of the channel, and will continue to utilise the talents of Indigenous writers, directors and journalists to produce content covering a variety of genres, from music to health, sports, news, current affairs, culture and children's programs.