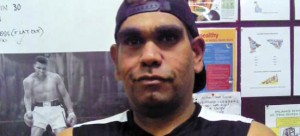 This man lost a staggering 65kg in less than a year by changing his diet and exercising every day. Dereck Pickett is a shining example to others of what you can achieve if you put your mind to it.
The 34-year-old has gone from being 160kg to 96kg in about a year. That's a staggering    64kg. He says simply walking every day and some light workouts at the gym, as well as changing his diet, have helped him shed the weight.
"I just wanted to sort myself out. I started walking about 3–km a day and this rose to about 10–12km every two days," Dereck says.
"At the Mallee Football Club Gym, in Port Lincoln, I also did about two hours a day on the treadmill, bikes, and light weights, as well as a circuit class with the gym manager, Richard Turner."
He has also changed his diet to eat more protein and less carbohydrates and fatty foods.
"I have tried various diets including Tony Ferguson and Bodytrim as well as Fat Blasters. I eat a lot of protein shakes. I feel excellent now with that weight off. I have more energy and I can do more things. I can play football again now," he says.
Mallee Football Club Gym Manager Richard Turner says Dereck moved to Port Lincoln to support his nephew with his AFL career with the local side.
"Derek is Byron Pickett's uncle. Byron plays footy for the Mallee Park Club and Derek came to live in Port Lincoln to support his nephew's footy career," Richard says.
"But the doctor told him to lose weight or face diabetes. Since then, he has been eating more protein, which is what our bodies are built to eat. He has been eating chicken and kangaroo and fish, and I find that if you eat more protein the weight just falls off without even doing a great deal."
Richard says Dereck has been an inspiration to other members of the club.
"He is an inspiration to all of us here at the Mallee Park Footy Club gym. He has been inspiring a lot of other people too," he says.
Dereck's advice to others who want to lose weight is:  "Give it a go and don't stop. I nearly stopped a few times but I just kept going."
"I want to become a personal trainer and I have applied to do a course for this. If I get in and complete it, I would like to do this out of the Mallee Park Football Club."
Because he has lost so much weight, Dereck has undergone surgery recently to remove the excess skin around his abdomen. He is now recovering from this surgery and gradually returning to his weight-loss regimen.