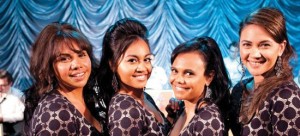 Receiving the Jimmy Little Award for Lifetime Achievement in Aboriginal and Torres Strait Music was an emotional moment for three of the original Sapphires on the Deadlys stage – Lois Peeler, Laurel Robinson and Beverly Briggs.
The original Sapphires came to prominence in the 1960s, back in the days when being black in Australia meant you couldn't sing in mainstream clubs and Aboriginal people had just been given the vote. It made everything the original Sapphires did all the greater and their story has now been immortalised, both in theatre and a hit film.
The story of The Sapphires has captured both community and wider Australia.
"It was a huge honour to receive the award, we all agreed, and it was particularly emotional for us because Jimmy was part of the Yorta Yorta national from which myself and my sister Laurel come. Laurel told a little story on the night, which most people wouldn't have been aware of, that our grandmother was there at Jimmy's birth," Lois says.
"Jimmy was someone who is held in such high esteem in our community and across the nation."
The story of the original Sapphires is now well known, thanks to Laurel's son Tony Briggs, who wrote the play on which the film The Sapphires is based.
In 1968, Lois Peeler (nee Robinson) and Laurel Robinson, went to Vietnam to sing for the troops. These two young ladies, originally from the Cummeragunja Mission NSW's side of the Murray River, travelled with a group of entertainers for three months across that war-torn country. Although they were guarded at all times, the horrible realities of that conflict must have been an ever-present backdrop for them.
It was a time of great change in Australia, too. In the late 1960s, Aboriginal activists were finding their voice and campaigning for civil rights and recognition.
Back home, the sisters teamed up with Naomi Mayers and Beverly Briggs to sing soul in clubs and pubs, cabarets and parties in Melbourne, forging a music pathway for other Indigenous musicians to follow. These ladies sang their hearts out in the late '60s before settling down to successful careers in various roles as advocates for their people.
The 2012 Deadlys was able to bring together three of the original Sapphires (Naomi was unable to attend) in recognition of their pioneering contribution to Indigenous music, and also featured the cast of The Sapphires film, Jessica Mauboy, Miranda Tapsell and Deborah Mailman as presenters, and later for the closing number of the show – the song "Land of a Thousand Dances".
"The Deadlys experience was amazing. I've only ever watched the Deadlys in Melbourne, on TV, and to be there and part of the show was to witness just how Deadly we are, across entertainment actors and actresses, music, sport and the community. I really enjoyed it and the feeling that I got from the community was warmth and pride. We all got caught up in it," Lois says.
The Sapphires play and film have been successful and, following the Deadlys, the original Sapphires' story once again captured the nation with widespread coverage across newspapers, radio and TV. The attention surprised Lois.
"It has been absolutely surprising and to be so wonderfully received with such positivity. When my nephew Tony (Briggs) began writing the story, I remember saying 'Who'd be interested in that?' But what do I know…" Lois says.
"But the story was finely crafted. It touches on points of our history that were not the happiest of times and highlighted them, but the story rises above the hardship. We held onto our Aboriginality and that was uplifting. People comment on the Sapphires storyline, saying it is a joyous, uplifting story."
It's this same mix of challenges and good times from that era that Lois recalls today.
"Being in Vietnam… I look back on that time and think I was either very brave or very stupid. It was a time of a lot of sadness and we wanted to make the troops happy through our music.
I have some good memories but at the same time, it was quite frightening.
"Back in Australia it was also difficult. At the time the White Australia policy was in force and Aboriginal people had just become citizens of this country. As a result, we took our music to the underground clubs, where black people would gather and listen to their own music and dance their own dances."
The girls were part of a church and associated youth group run by Pastor Sir Douglas Nicholls (1906-1988). He was a Church of Christ Pastor, and the first Aboriginal person to be Knighted. He was also from the Cummeragunja Mission and did much to progress the rights of Indigenous people in Australia during his lifetime.
"As part of his church and youth group, we thought of ourselves as ambassadors and welcomed people to Australia, so that it was less hostile for them. In those days, you would seldom see a black face on the streets and visitors would feel alienated. It was part of our role to welcome them."
Lois recalls she developed a deep love of soul and blues that has remained with her today.
"I have a marvellous collection of music and I still enjoy it today."
She eventually married an American GI (soldier) and lived overseas before returning to Australia in the early 1980s to help one of her seven sisters, the late Hyllus Maris, who founded Worawa Aboriginal College. Today, she is the Executive Director of the College.
Worawa is a boarding school in Melbourne with a vision to provide an education to young Aboriginal women that develops a sense of pride in identity and culture, so they can reach their full potential. Its students come from across Australia.
There is no doubt the lives of all of the original Sapphires have taken many twists and turns. While the film The Sapphires has gone on to enjoy major success in Australia and overseas, the real-life story at its heart is all about soul, love, family and dreaming of a better future – a story that connects with so many people.