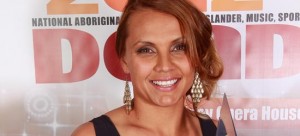 She's our 2012 Deadly female sportsperson of the year. She's a national champion, a former Northern Territory sportsperson of the year, World Cup player and now triumphant Australian women's Rugby Sevens team member. Her achievements are many and deserved.
Bo de la Cruz is a role model and mentor in the truest sense of the words. Aside from her blitzing talent on the sports field, she's also a role model with the Palmerston Girls Academy, an initiative of Role Models and Leaders in Australia, and she takes her job very seriously.
"The word role model gets thrown around a bit too much," Bo says, "just because you are a sports star or musician, but you have to be a certain type of person to be a role model.
"I help run the Palmerston Girls Academy up in Darwin which engages Indigenous girls back into school. I love working with the Academy because it is something I didn't have when I was growing up."
The Academy has been specifically designed for secondary school Indigenous and non-Indigenous girls. It provides a unique curriculum and supportive programs that enhance the attainment of high school graduation, Year 12 completion, employment, career and further education goals.
Working with local Indigenous groups and business and community leaders, the Academy makes sure the needs of the girls and their objectives are met.
Programs delivered through  the school include:
Mentoring and personal support
Work placements and work readiness
 Sports and extracurricular activities
Leadership, teamwork and vision programs.
Students from the Academy attended the 2012 Deadly Awards with Bo.
"I've brought seven of my Year 12 girls with me tonight," Bo says. "Seven are graduating, and they didn't have many graduating before we got into the schools. I'm proud of my girls, proud of the Academy and proud of what we do.
The girls going on to complete Year 12 are the result of how hard staff work at the Academy."
For Bo, her family, sport, and work as a role model and mentor are vitally important to her.
She was born in Darwin in 1981 and began playing touch football for her school at the age of 12. By the time Bo turned 22 she had already vice-captained two triumphant Australian touch football teams.
In 2008, she made a code switch from touch football to seven-a-side rugby union. She played her first competitive rugby sevens games in November 2008 and by 2009 was a member of the World Cup winning Australian Women's Rugby Sevens team in Dubai, setting up the winning try in the final match against New Zealand.
In 2011, Bo was a member of the triumphant Australian Women's Rugby Sevens team that competed at the IRB Challenge Cup in Dubai, and in March this year she was part of the side that made it back to back tournament wins in Hong Kong.
"Family was my life, and of course sport, when I was growing up in Darwin. My favourite thing to do now is spend time with family, my nieces and nephews, and I'm really close to mum and dad," she says.
"Sport is up the top there still. I'm not getting any younger and I've got to deal with that, but for the next few years it's a big priority in my life. The longer I do it, the longer I can stay a role model.
"If I'm helping one girl or boy achieve in their life because they look up to me, I'll keep doing it for as long as I can."