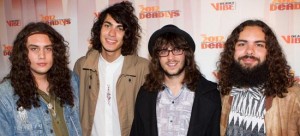 While touring in a rock band may not be ideal for your health, with lots of takeaway food and sitting on a bus, Queensland rockers The Medics make the most of their time on the road and try to stay in shape when they can.
The Medics put on a very intense physical and emotive show and they need to keep fit to do it night after night while on tour.
Deadly Vibe caught up with them recently at the Deadlys in Sydney. The Medics were nominated for a Deadly in the Album of the Year category with their new album Foundations. They were taking a short break from their current tour in support of this album.
 How do you stay fit?
"We all do different things to stay fit. Our bass player rides a bicycle," lead guitarist Andrew Thomson says.
"It is hard when you are on the road to eat well – you can eat too much fast food."
 What about staying  strong mentally?
The boys keep their minds sharp and stay mentally focused by writing songs on the road.
"Once we get off tour we are looking to settle down and do some more writing. We want to have a lot of songs so we can have a good choice," says drummer Jhindu Lawrie.