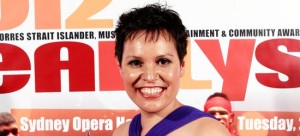 Stepping into the Deadly Sounds studio this month is Natalie Ahmat, who presents the news each night on NITV, which is now available through the SBS network. Natalie also won this year's Deadly Award for community broadcaster of the year.
Deadly Sounds: How does it feel to have won a Deadly Award?
NA: It's a real surprise and an honour at the same time.
DS: Is this one of the first awards that you have been nominated for?
NA: In my journalism career I have been nominated for a few things but I have never been lucky enough to win. To be nominated for a Deadly is fantastic because this is our community and that makes it a little more special. Regardless of whether you win, just to be nominated tells me that people enjoy what we are doing – not just my work, but the work of the whole team around me – the NITV News team. Without them, nothing would be broadcast.
DS: Now let's go back a bit – where did you grow up?
NA: I grew up in Canberra, but a lot of people would recognise my name from the Darwin Ahmats. My parents left after Cyclone Tracy and relocated to Canberra. They are still there. That's where I grew up, but Darwin has a special place in my heart. We went there for extended school holidays and my first job out of university was also in Darwin. I worked there for five years. Darwin is my second home.
DS: NITV is now available to many of us through the SBS network. What has it been like, as a journalist, to move from NITV to SBS?
NA: It's exciting. We were in our own little bubble before, doing the best we could, but now we have all of these extra resources such as extra cameramen and extra reporters. When you are making news, or any TV, the more people you have helping the better.
DS: And NITV also has a new look?
NA: Yes. Viewers would have noticed we have a new look – hot pink and light and shade – and we think it is really contemporary. It gives our news a fresh look, which is a reflection of the Indigenous community, too. So many of us are in cities and have urban stories to tell, as well as in the rural and remote places, and I think the new opener catches that – we go from the city down a river into the bush, but we kept the old music. We also have a new set and that is changing, too. We will add to all of this as we put down roots at SBS. In the next six months, the news will get even more polished. This revamping has been exciting. It is a brand new news service, even though a lot of the things we like about it are the same.
DS: There are stories that we are telling that we weren't seeing five or six years ago. For you, as a journalist, what is one story that you have covered that has impacted you personally?
NA: Every story we tell as an Indigenous person has some impact, but the Intervention and the Stronger Futures policy, which is taking place because of the Intervention, that is affecting so many families – always gets me when I am reporting on it. It is a story that is not getting a lot of coverage in the mainstream media. We are looking at angles that are not being covered by our mainstream counterparts. We are making sure that people are getting information about decisions that are being made in Canberra.
DS:  What are your hobbies?
NA: I am a qualified personal trainer, so keeping healthy is a huge area of interest for me. I try to get into the gym as often as I can. Whether you go to your local AMS and do a bit of boot scooting with the aunties, or you have joined a gym or just do some walking – we as Aboriginal people have so many chronic illnesses that we need to just get out there daily and do a small amount of exercise.
DS: NITV has a great range of shows apart from the news, including Move it Mob Style. What are you watching at the moment?
NA: I like watching the football sports show – the Marngrook Footy Show. That's my background. I started out as a sports journalist before I moved into general news. So that and other coverage of sporting events, such as the Koori Knockout, the Lightning Cup and rugby league from the Torres Strait. With some of these footy events, you only get to see them on NITV.
DS: What are you reading?
NA: Kim Scott's novel That Deadman Dance. I recently finished an Anita Heiss novel, too. I don't mind a bit of chick-lit.