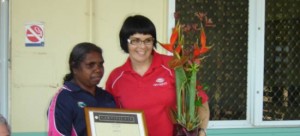 Aboriginal health worker Alice Tayley is held in high regard by her co-workers at Wujal Wujal primary health care clinic in far north Queensland. When she was nominated for a 2011 deadly award, her colleagues described her as a quiet achiever and committed to providing primary health care to the community.
When Deadly Vibe spoke to Alice, her career goals were heartfelt.
"I want to keep working with my people, learn as much as I can and show the younger generation what I can do so that, hopefully, they'll stay at school and get their training to become Aboriginal health workers," Alice says.
Along with being one of five Deadly Award finalists in the Health Worker of the Year category, Alice was recently recognised by Queensland Health for her 27 years of outstanding service.
Alice has a wide knowledge on various Indigenous health issues and a clear understanding of the local environment – she is always involved in primary health care to address community-identified health concerns.
"My portfolio is childhood diseases and particularly rheumatic fever. We hold clinics every Wednesday where our children have weight and growth checks, until they are healthy enough. We also have full health checks from head to toe, and mums will bring their kids into us when they've got concerns for a check-up," Alice says.
"The types of problems we see are chest infections or children being underweight. We then refer them onto doctors and paediatricians. Once a month, we administer Bicillin (an antibiotic) to kids who have had rheumatic fever. They've got to have that until they are 21 years old."
Rheumatic fever is an inflammatory disease that can develop after an infection with Streptococcus bacteria (such as strep throat or scarlet fever). It can affect the heart, joints, skin and brain. It is likely to come back in people who don't take low-dose antibiotics continually, especially during the first three to five years after first contracting the disease. It can be prevented by getting quick treatment for strep throat and scarlet fever.
Alice considers her work extremely important to the community.
"I really like working in my community. I watch the kids grow up and then become young mums themselves bringing their bubs in to see me. It's like family and when I treat these kids, I get attached to them."
To become a finalist in the 2011 Deadlys Aboriginal Health Worker of the Year is a considerable achievement, given the calibre of nominees. The purpose of the award is to recognise and reward the grassroots and on-the-ground work that our network of Aboriginal health workers perform.
Co-worker Cath Nolan was one of the people who nominated Alice for a Deadly.
"Alice is the ultimate quiet achiever who has cared for the children of Wujal Wujal in her role as health worker for over 20 years. She has a beautiful kind and gentle manner with
the children and their parents and is a fountain of knowledge about the families and the community," Cath says.
"Her clinical skills in recognising needs are second to none, and she is an integral part of the health team. Alice is always a pleasure to work with, always has a smile on her face when I walk in the door, and without her, my job as child health nurse would be made so much more difficult. I also love her laugh – even on a tough day it brings a lightness to the air that is magic."
Another co-worker spoke highly of her commitment to community. "Alice is committed to providing primary health care to the community, and supporting her people," she says.
"She is unstinting in generosity and a very versatile person with a very pleasant personality and outgoing manner."
Alice was born at Cooktown and is from the Kuku Yalanji or rainforest people.
"I live near a river and a waterfall and the beach is not far. I live where the rainforest meets the sea," Alice says.
Apart from working in the Wujal Wujal health clinic, Alice is also studying for her Diploma in Aboriginal and Torres Strait Islander Primary Health Care.
"To know your community and your people and to work together with the staff in the clinic as a team, is what I enjoy.
"People in the community show respect to me. I am aiming for our young people to continue my work."