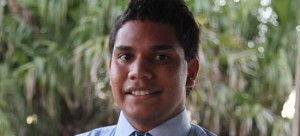 Moving away from home for the first time for many young people can be really exciting, but not knowing anyone in a new town can also be pretty daunting. Having to support yourself financially and study without family support can be even tougher.
The Indigenous Youth Mobility Program (IYMP) makes the transition of moving from home easier for Aboriginal and Torres Strait Islander students. Support is available for students aged between 16 to 24 who move from remote or regional areas to further their education and improve their career opportunities.
The program helps with the costs of accommodation, education and training and helps participants to get Certificate III qualifications and above through mentoring and practical support.
Walter Towney first left Moree for the 'big smoke' in 2009 to start his three-year Bachelor of Business at Southern Cross University in Coffs Harbour.
"When I first moved to Coffs it was overwhelming. I didn't know anyone at all. Coming straight from home to uni, I found it really hard to try and balance study with normal day-to-day life,' said Walter.
"I lived at the uni campus for the first year but it was so expensive, I just couldn't afford it. My aunt told me I should look into IYMP, so I did."
The Indigenous Youth Mobility Program, delivered by Aboriginal Hostels Limited in Coffs Harbour, helped Walter move to group accommodation.
"It makes studying at uni so much easier and I don't have to worry about money as much. It's also really good to be in an environment with other kids studying because the support is excellent. It's like being in a big family and I have found it really easy to make friends,' he said.
When he's not studying for his own degree, Walter helps mentor other students.
"I know what it's like to be a first-year (student). It's so different to high school, the way you have to study, so if I can help other students I do. I'd definitely recommend the program to other students, especially if they have to move away from home to study.
"My family are much happier now because they know I am settled and happy here.'"
Walter hopes it won't be long before he's sitting beneath the coconut palms on a sandy white beach starting the first day of his dream job, working in resorts and hotel management. Now that he's found his study-life balance, along with new friends and 'family' at the hostel, his last year of uni should be a lot easier.