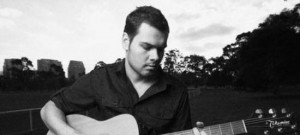 MY NAME IS…   Benny Walker.
MY POSITION IS… Singer/Songwriter.
MY MOB IS…   Yorta Yorta.
I LIVE ON…   Echuca, which is on country for me. The population here is around 15,000.
BRIEF HISTORY…   My grandfather was born on the Cummeragunja Mission. Cummeragunja was an Aboriginal mission established in 1881 on the NSW side of the Murray River, on the Victorian border near Barmah. He and his brothers were shearers, and he married a kitchen hand at one of  the local stations where he was working. My Dad was raised in Echuca, and my brother (AFL star Andrew Walker) and I were born and raised there, too. We played a lot of sport growing up as kids and spent most of our time outdoors, particularly when we moved on to five acres (two hectares) just outside town where we were able to entertain ourselves.
DESCRIPTION…    Echuca is a small community on the river. It survives on tourism, has a big sporting culture and is a twin town with Moama. Moama has a population of 5000. The Murray River attracts waterskiing and wakeboarding activities and is a big recreation and tourism outlet for the town. We still have paddle steamers used for tourism.
I moved away from Echuca for about five years to Melbourne, but I'm a country boy at heart and moved back to Echuca for the slower pace. It's sleepy through most of winter, and from September through to April, the tourists come.
LIFESTYLE…   Echuca suits me because I'm a laid-back person and a bit of a product of the environment. No matter where I've travelled to I always enjoy coming back home, and I'll keep doing that.