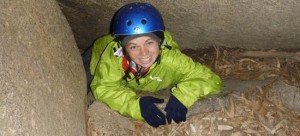 Recently, 27 indigenous students, from the Australian Indigenous Education Foundation's partner schools across NSW and QLD, took on a week-long outward bound wilderness adventure in the Namadgi national park, act. The students came back raving about how many new friends they made and how much they learnt.
Taking students away from their usual environment and setting them challenges in the bush is a surefire way to increase their confidence. The students travelled from as far away as the Torres Strait for the seven-day escapade, which was held in the Namadgi National Park.
Part of the Australian Indigenous Education Foundation's (AIEF) Post-School Pathways Program, the Outward Bound course involved a series of challenges that pushed the students to their limits and outside of their comfort zones.
Robbie from Marist College Ashgrove, QLD, says his favourite activity was exploring the ancient boulders that make up "Lego Land": "I really liked climbing into the small spaces and seeing the big view of the valley.
Experiencing something different like that really took me out of my comfort zone."
The best parts for Tamina from St Catherine's School, Waverley, NSW, were climbing Mount Tennent (1375m high) and making new friends.
"I learnt that it's important to work in a team and that having people supporting and working with you is good," she says.
When they got back home in the last week of their school holidays, the students had time to reflect on their adventure and relax after a challenging week.
One Sydney student's mum says her daughter loved the experience.
"She had an amazing experience and has not stopped talking about it.  I see a different girl, a stronger one with passion, strength and confidence – and with 19 or so more friends."
Founder and CEO of AIEF, Andrew Penfold agreed that the students took home some valuable lessons about teamwork, leadership and also about themselves.
"Outward Bound helps the students develop the skills needed to define their goals, take on challenges and realise they are capable of much more than they may think," he says.
"At AIEF, we believe that Indigenous
children in financial need should have access to some of the leading educational opportunities, companies and providers to pursue productive and fulfilling careers."
Outward Bound CEO Darren Black says the foundation's outdoor adventures align with the education goals of AIEF and are crucial for the development of all young Australians so they can discover, develop and achieve their potential.
"The course stretches students mentally and physically, but the challenge helps them grow," he says.
"They learn to work together and draw strength from each other to succeed, developing the most positive elements of the human character consistent with our core values of integrity, responsibility, resilience, compassion, service and human potential."
Outward Bound Australia has been helping young Australians realise their potential and leadership abilities for over 50 years and delivers outdoor-learning programs to thousands of students every year.
For more information about Outward Bound and their courses, visit www.outwardbound.org.au.