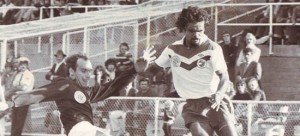 When most people think of Indigenous achievement in football, they think of AFL and rugby league, but as this new book shows, it doesn't end there.
John Maynard: I think we've excelled in just about every sport you can point your finger at where we've been given a go, and soccer is one that's sadly been missed in many respects, so this book is filling in another one of the many gaps in Aboriginal history.
Harry Williams was the first Aboriginal man to represent Australia in soccer and play at a World Cup, and it's surprising we haven't seen more Aboriginal players since then playing for the national team.
JM: I saw Harry play in 1970 in Newcastle and he was just the fastest player you could imagine and a brilliant player. I'd like to emphasise, too, that there were barriers to us participating in any sport. Certainly prior to the '60s AFL could count the number of players on two hands who had played previously, but it wasn't until the '70s and certainly the '80s where the AFL and rugby league targeted Aboriginal communities and they have got great returns.
Soccer for all intents and purposes could have actually got a head start on them, and I spoke to Johnny Warren before he passed away and he said back in the early '70s he was advising the soccer authorities to target Aboriginal communities because of the incredible talent that existed but had been overlooked, and all it needed was encouragement. Johnny Warren was a visionary, and he recognised it, but sadly he was ignored at the time.
Charlie Perkins was a brilliant soccer player, John Moriarty was brilliant, Gordon Briscoe was brilliant – they had all been moved to a home in South Australia when they were young, and the home where they were placed was right in the middle of a soccer-playing community in Adelaide, and that's how they were attracted to the round-ball code. Charlie represented South Australia, was vice captain of South Australia, went to England to trial with Everton and was even offered a trial by Manchester United in 1959.
We've heard of marn grook, which is one of the games that influenced Australian rules football, but not as many people know about the Indigenous game woggabaliri, which you write about in the book – tell us more.
JM: The painting that William Blandowski did in Victoria in the 1860s quite clearly depicts a young Aboriginal boy with a round ball balanced on his foot – that game was all about keeping the ball off the ground and balancing the ball and passing it around, which is what soccer players do, so obviously our people were playing such a game a long time ago.
Soccer in Australia has undergone a revolution over the last five years, and with the A-League being established, it seems real inroads can now be made to attract more Indigenous players.
JM: Absolutely, and I think the big change that has come through in our community, certainly since the '90s, is that people have seen the Premier League and they've seen the World Cups broadcast on television, so that coverage has attracted more of our mob to the game Now the FFA is picking up the ball in targeting our communities and encouraging us to take part – that's going to see big change, too.