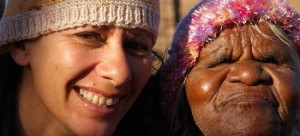 Hot on the heels of winning the 2012 Deadly Award for Outstanding Achievement in Literature, poet Ali Cobby Eckermann has put out a new book: Love Dreaming and Other Poems. Consisting of previously published and new poems, it is published by Vagabond Press, based in both Sydney and Tokyo, and is expected to help Ali gain exposure in Asian markets, too. The poems are deceptively simple. Some of them pack an emotional punch, while others show Ali's great playfulness with form and language.
To celebrate the book and her recent Deadly Award, Ali and fellow Aboriginal poet Lionel Fogarty (who featured in the December edition of Deadly Vibe) recently went to Bangkok, UNESCO's World Book Capital for 2013, where they participated in the Reaching the World conference held by the Asia Pacific Writers and Translators Association.
"The summit was talking about literary awards and also translations and they wanted to have an Aboriginal perspective on translations and dying languages and all that," said Ali. "It was a fabulous opportunity and a privilege to be there."
One thing she took home from the trip was the sense that she had finally arrived as a writer. "I was really privileged to spend a lot of time with international women writers … they really opened up their hearts to me," said Ali. "The international festivals are different, in that they're not about the grog, they're really about the craft. In Australia it's all about the grog. You're the odd one out if you're the non-drinker or teetotaller – you're the boring old fart writer. Over there, it was really about the craft. Those different cultures have different ideas on where writers sit on their social ladder. In some countries, writers and especially poets are revered, equivalent to a lawyer or even higher.
"It was quite a different perspective and I just felt valued as both a general writer and a female writer and I came home more mature and thinking that I know what to say and I know what I'm hoping to do over the next five years."
Ali's five-year plan involves writing her first novel, but she's not saying what it's going to be about yet. She's been overwhelmed by the success of Ruby Moonlight, the verse novel for which she won the Deadly, but she feels she was more a conduit for an important story that Australia really needed. "We need to get back to some healing.  We're not getting it from our leaders. Their behaviour is disgusting. You know if your children carried on like that, you'd give them a clip in the ear if you were allowed to."
When not jet-setting, Ali finds it healing living in the small South Australian town of Koolunga where she's bought the old general store and set up house, as well as a retreat for visiting Aboriginal artists.
"I live in this little town for my healing and sanity, because I can hear myself think here… we don't hunt and gather like our grandparents, but I can grow and gather food in my backyard, so a lot of the old ways I've customised to living here and that keeps me sane and strong and happy," she said.
Ali grew up not far from Koolunga with her adopted parents. She ran away from there when she was 17 years old in search of her birth family. Coming back, she says, has made her stronger. "I realised that all the racism and hurt from my childhood couldn't really hurt me any more, and I found that was a really empowering thing. I was a bit scared to come back even though I was in my forties," Ali said.
She spent 10 years in the desert with her Mum's people, Yankunytjatjara, who were moved on because of the Atomic bomb tests conducted at Maralinga. It was there she learnt how to heal herself. It took her years and lots of hard work to learn how to feel protected off country, but she says she feels good where she lives now. Other people are picking up on the vibe, too. "Everyone enjoys coming here. It's a bit of a rabbit warren, the rooms go on and on and there's lots of space for privacy, lots of space for gatherings and doing collaborations. It's such a sleepy little hollow. There's lots of space for just sitting."
When she bought the place, she was the first Aboriginal person to live in the town for 90 years. She called her retreat the Bunyip's Revenge Aboriginal Writers Studio because in 1883 there was a reported bunyip sighting and an unsuccessful attempt to catch it by whitefellas on the banks of the Broughton River, which runs through the town.
"People can come here, they can help in the garden, and cook or whatever, but more importantly they can leave all their troubles and ego on the highway. They can just come here and enjoy the creative space," said Ali. The retreat is a work in progress and has already seen visits from fellow poet Lionel Fogarty, Arrernte artists including Delores Furber Napaltjarri, and the Aboriginal film-maker Sonja Dare, with whom Ali collaborated to make some poetic films.
Ali wasn't able to go to Sydney to collect her Deadly Award because she'd just lost the family matriarch, her Mum's older sister, a few months after losing her own Mum. But staying at home proved good fun, too.
"Koori Radio let me know that they were streaming it live through the computer and sent me the link, so we were sitting there in the kitchen with my daughter and granddaughter when the news came through that I'd won. If I'd gone, I wouldn't have had any of my immediate family there. You should have seen my 10-year-old granddaughter running flat-out through the house, jumping up and down and saying, 'Nanna you won!' To be able to share it with them was the best thing."
To cap off a stellar year, Ali has just sent off a manuscript of her poetic memoir to Ilura Press in Melbourne. Called Too Afraid To Cry, it captures the emotional journey of an adopted girl who is trying to find her family. It should be coming out soon.